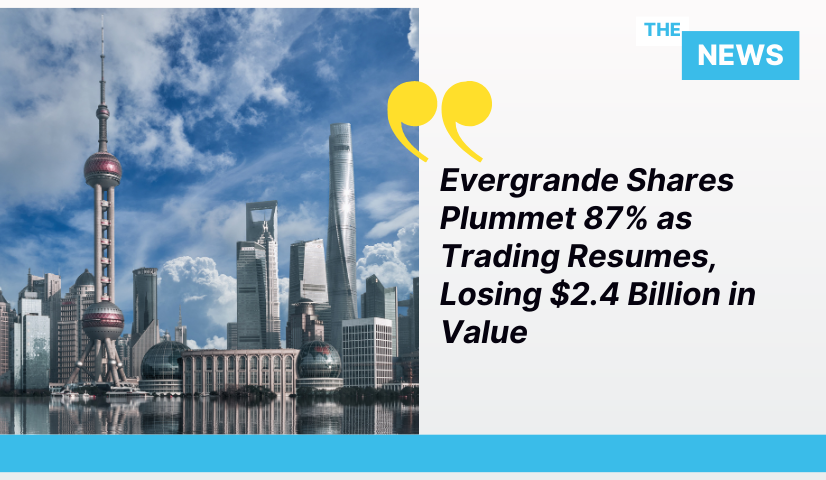 Key Takeaways

China Evergrande Group's shares experienced a massive 87% drop upon trading resumption, wiping out nearly $2.4 billion of its market value.

Evergrande's financial turmoil deepened as it navigated a debt crisis in China's property sector, with upcoming court decisions crucial to its $32 billion offshore debt restructuring plan.
Evergrande's Drastic Losses on Trading Resumption
China Evergrande Group, the world's most-indebted property developer, faced a catastrophic drop of 87% in its shares as trading resumed after a 17-month suspension. The sharp decline effectively erased close to $2.4 billion in market value. The shares fell to as low as HK$0.22 on Monday, significantly reducing the company's market capitalization from HK$21.8 billion at its last trading session. This dramatic loss marks Evergrande's first trading session since March 21, 2022.
Debt Crisis and Ongoing Restructuring Efforts
The steep decline in Evergrande's shares highlights the deep-seated debt crisis gripping the company and China's property sector. As the most-indebted property developer globally, Evergrande has been grappling with multiple debt defaults since late 2021. This ongoing crisis has led to increased scrutiny and pressure on the company's financial stability.
Courts are set to make pivotal decisions next month regarding Evergrande's plan to restructure nearly $32 billion of its offshore debt obligations. The outcome of these court rulings will significantly impact Evergrande's path forward and its ability to address its mounting debt burden.
Struggles Amidst Resumption and Restructuring
Trading resumed for Evergrande Group's Hong Kong-listed units, China Evergrande New Energy Vehicle Group and Evergrande Property Services Group, after a 16-month halt. This move is crucial for Evergrande's broader efforts as its offshore debt restructuring plan hinges on the resumption of trading for these entities. The restructuring plan involves converting a portion of the debt into equity-linked instruments backed by these units.
The financial challenges continue to mount as Evergrande reported a narrower net loss for the first half of the year due to increased revenue. Despite this, the company's liabilities decreased by 2% to 2.39 trillion yuan ($328.14 billion) during the six-month period, while its total assets contracted by 5.4% to 1.74 trillion yuan.
Uncertain Path Forward and Ongoing Concerns
Evergrande's financial difficulties have resulted in staggering losses over the past years. The company posted a combined net loss of $81 billion for 2021 and 2022, a sharp contrast to the 8.1 billion yuan profit it reported in 2020. The ongoing uncertainties surrounding Evergrande's financial situation have even impacted its auditors' conclusions on the company's financial statements.
Evergrande's ability to continue hinges on the successful execution of its offshore debt restructuring plan and negotiations with its lenders for repayment extensions. As crucial court decisions approach in Hong Kong and the Cayman Islands, the fate of Evergrande's massive debt restructuring endeavor hangs in the balance.
China Evergrande Group's trading resumption with an 87% plunge in share value underscores the deepening financial crisis the company faces. Amid ongoing debt challenges and impending court decisions, Evergrande's future remains uncertain. The unfolding events emphasize the fragility of the global property sector and the intricate nature of resolving complex financial struggles amidst broader economic landscapes.