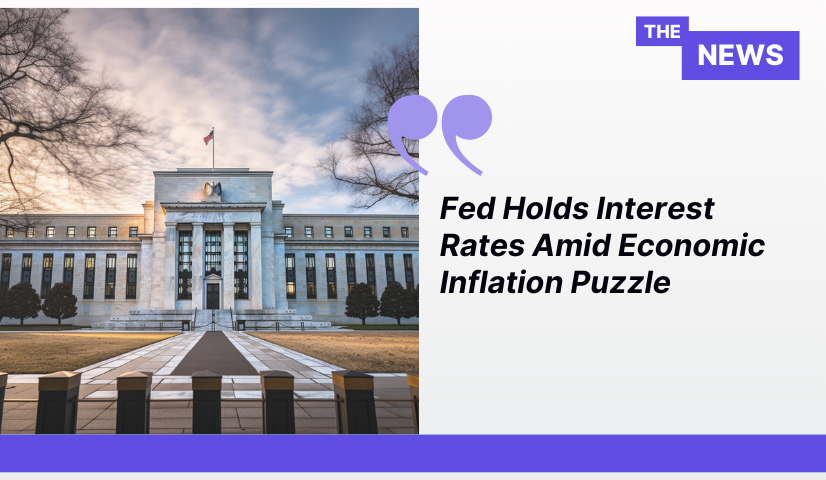 Key Takeaways

The Federal Reserve keeps benchmark interest rates amid uncertainty, deliberating whether economic conditions warrant more restraint to counter high inflation.
Despite robust economic growth, concerns over inflation persist, prompting caution in future rate adjustments as the Fed monitors forthcoming data.
Fed's Dilemma on Inflation and Economic Growth
In a pivotal decision, the Federal Reserve chose to maintain the Fed's benchmark overnight interest rates in the current 5.25%-5.50% range, acknowledging the challenges in navigating the current economic landscape. Chair Jerome Powell emphasized the uncertainty faced by U.S. central bank officials in determining whether the existing conditions sufficiently tackle inflation or if additional restraint is necessary to counter rising prices.
Powell expressed that although inflation has decreased, it remains notably above the targeted 2%. The challenge lies in assessing whether the prevailing economic conditions are adequately restrictive to subdue the inflationary pressures. While acknowledging progress, the Fed remains still determining the effectiveness of current measures in curbing inflation.
Market Impact and Policy Standstill
While the decision to maintain interest rates for the second consecutive meeting suggests a cautious stance, Powell noted the impact of recent increases in Treasury bond yields and home mortgage rates on economic activities. The rise in borrowing costs may weigh on economic growth, prompting the Fed's vigilance in evaluating the effects of persistent tightening measures.
The Fed acknowledged the recent robust economic growth of 4.9% in the third quarter. However, despite the surge in consumer spending, the policymakers, in a unanimous decision, retained the rates, emphasizing the "outsized" economic expansion. This raised the bar from the earlier perception of a "solid pace" of activity.
Market Reaction and Policy Implications
Following the Fed's announcement, the stock market climbed, the U.S. dollar stabilized, and U.S. Treasury yields declined. While the statement appeared to have a dovish tilt, market analysts inferred a potential pause in rate adjustments until December, reflecting market uncertainties about the Fed's future stance.
Powell highlighted the positive aspects of the economy, such as low unemployment and increasing wages, fueling greater demand and job creation. However, the Federal Reserve remains cautious about the potential slowdown or reversal of inflation progress, acknowledging the need for a balanced policy stance to maintain price stability.
Outlook and Future Deliberations
The Fed's policy decisions, influenced by evolving employment and inflation data, are pivotal for their forthcoming meeting in December. As the Labor Department's jobs report looms, it is anticipated to significantly shape the Fed's course of action and policy deliberations.