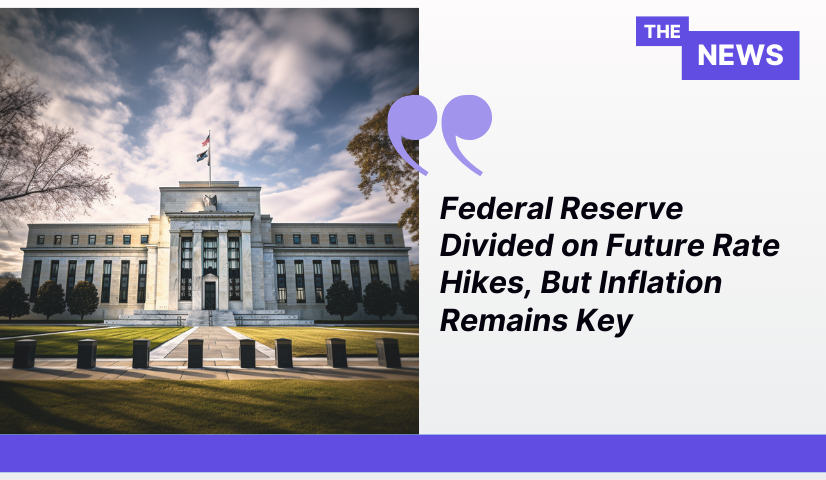 Key Takeaways
The Federal Reserve's September meeting minutes reveal differing views on future interest rate increases.
While some officials advocated for one more rate hike, others believed that no further increases were needed.
Debate Over Future Interest Rates
Minutes from the Federal Reserve's September meeting, released on Wednesday, shed light on a divided opinion among officials regarding future interest rate increases. While some participants expressed the need for further policy tightening, others suggested that no additional hikes were warranted.
Consensus on Inflation Concerns
Despite the varying views on rate hikes, there was unanimity among Federal Reserve officials on one crucial point: interest rates should remain elevated until policymakers are confident that inflation is on a trajectory to return to the 2% target. The summary of the September 19-20 policy meeting highlighted this shared concern.
"A majority of participants judged that one more increase in the target federal funds rate at a future meeting would likely be appropriate, while some judged it likely that no further increases would be warranted," the meeting summary stated.
The meeting minutes emphasized that all members of the rate-setting Federal Open Market Committee (FOMC) agreed on the need to "proceed carefully" with future decisions. These decisions would be guided by incoming economic data rather than a predetermined path, reflecting the Federal Reserve's commitment to data-driven monetary policy.
Continued Restrictive Policy
The FOMC also reached a consensus on the need for policy to remain restrictive for an extended period. This stance was viewed as necessary until the committee is confident that inflation is moving sustainably towards its 2% objective.
In the dot plot of individual members' expectations, a significant portion of the FOMC, approximately two-thirds, indicated that one more interest rate increase would be necessary before the end of the year. The committee has raised its key interest rate 11 times since March 2022, taking it to a targeted range of 5.25% to 5.5%, the highest level in over two decades.
Market Response and Future Developments
Following the September meeting, the 10-year Treasury note yield increased by about a quarter of a percentage point. This movement in bond yields essentially priced in the anticipated rate increase signaled by policymakers at that time. As the Federal Reserve continues to closely monitor economic data and the trajectory of inflation, the central bank's future decisions on interest rates will be influenced by the evolving economic landscape.