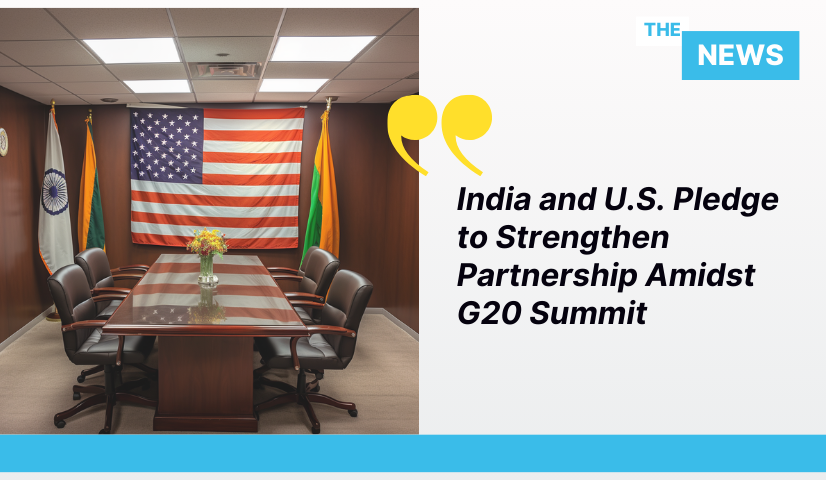 Key Takeaways

Indian Prime Minister Narendra Modi and U.S. President Joe Biden emphasize the significance of their countries' partnership during a bilateral meeting held ahead of the G20 summit.
With Russia and China absent from the summit, India and the U.S. aim to present themselves as an attractive alternative on the global stage, focusing on areas such as sustainable growth, technology, and security.
India-U.S. Partnership Reinforced
In their second bilateral meeting in under six months, Indian Prime Minister Narendra Modi and U.S. President Joe Biden have reaffirmed their commitment to strengthening the partnership between their nations. The meeting took place as Delhi prepares to host leaders from the Group of 20 (G20) countries, consisting of both industrialized and developing nations.
During their meeting, Modi and Biden issued a comprehensive 29-point statement highlighting the depth and breadth of their relationship. Key areas of cooperation include establishing resilient strategic technology value chains, linking defense industrial ecosystems, collaborative efforts in renewable and nuclear energy, climate financing, and cancer research.
The leaders also underscored the importance of the Quadrilateral Security Dialogue, known as the Quad, consisting of Australia, India, Japan, and the U.S. The Quad aims to support a free, open, inclusive, and resilient Indo-Pacific, responding to China's growing influence in the region.
India's Strategic Ambitions on Display
Modi's meeting with Biden is part of a series of discussions with world leaders held on the eve of the G20 leaders' summit. These interactions highlight India's strategic aspirations as it positions itself as a crucial global player bridging the gap between the developed world and the Global South.
The G20 summit holds particular significance for Modi's government, using its G20 presidency to enhance India's geopolitical stature in advance of national elections next year. With China's economic growth slowing, India, projected by the International Monetary Fund to be the fastest-growing economy in 2023, is increasingly attracting attention from governments, investors, and businesses.
Notable Absences and Challenges
The absence of Russian President Vladimir Putin and Chinese President Xi Jinping from the G20 summit has raised concerns about the summit's outcomes. Russia's Foreign Minister Sergey Lavrov will represent Putin, while China's Premier Li Qiang will attend in place of Xi, marking the first time Xi has missed a G20 meeting since becoming president.
India's inability to secure binding agreements during its G20 presidency has been attributed to objections from Russia and China regarding references to the conflict in Ukraine. Disagreements over wording have escalated, with the G7 countries seeking to align India with their approach to the Ukraine situation.
However, India's G20 sherpa, Amitabh Kant, expressed confidence that the final declaration is nearly complete and emphasized India's inclusive and action-oriented presidency.
India-U.S. as an Alternative to China
The absence of Putin and Xi presents an opportunity for India and the U.S. to showcase themselves as a compelling alternative to China on various fronts, from food security to debt resolution. In their joint statement, Biden and Modi expressed their commitment to the G20's objectives of sustainable development, multilateral cooperation, and consensus on economic policies.
India's warming relations with the U.S. contrast sharply with its tensions with China. India, along with several Southeast Asian nations, recently criticized China for asserting territorial claims on disputed regions. Furthermore, India stands to benefit from American companies looking to diversify their supply chains away from China.
Modi and Biden envision an enduring partnership that contributes to a free, open, inclusive, and resilient Indo-Pacific while serving global interests and fostering prosperity for their nations.