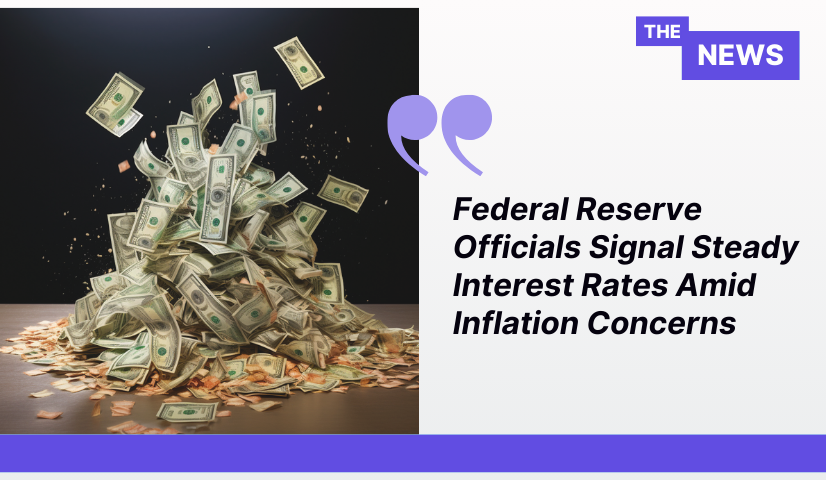 Key Takeaways

Federal Reserve officials, including Lorie Logan and John Williams, indicate a likelihood of keeping interest rates unchanged at the upcoming September meeting.
While acknowledging progress in taming inflation, they emphasize the need for a cautious approach and vigilant monitoring of economic conditions.
Federal Reserve Maintains Rates Amid Inflation Battle
Senior officials from the Federal Reserve have provided strong signals that the central bank is poised to keep interest rates steady at its September meeting. Despite making significant strides in addressing inflation, the Fed remains cautious, highlighting the need for a carefully balanced approach to monetary policy.
Lorie Logan, President of the Dallas Fed and a voting member on the Federal Open Market Committee (FOMC), voiced her support for maintaining the current benchmark rate, which stands at a 22-year high. She emphasized the importance of not prematurely assuming victory in the battle against inflation, cautioning against excessive tightening of monetary policy. Logan expressed her belief that a measured approach, rather than aggressive actions, is essential to return inflation to the target rate of 2 percent.
Logan commended the decision taken in June to slow the pace of interest rate hikes, including the decision to skip an increase, which was later resumed in July. She suggested that another pause in rate hikes might be appropriate when the FOMC convenes later this month.
Federal Reserve Officials Maintain a Cautious Stance
Lorie Logan's views align with those of John Williams, President of the New York Fed and a permanent voter on the FOMC. Williams conveyed that the current state of monetary policy is in a "good place." He emphasized the significance of closely scrutinizing incoming economic data to determine whether the fed funds rate is adequately restrictive to effectively manage inflation within an acceptable timeframe.
In what appears to be the most explicit indication yet that the Fed may need to tighten the money supply later this year, Logan underscored that the recent alleviation of price pressures does not necessarily equate to achieving "sufficiently low inflation." She emphasized that there is still work to be done to ensure a stable inflation rate.
Since March 2022, the Federal Reserve has executed 11 interest rate increases, bringing the federal funds rate to a range of 5.25-5.5 percent. Federal Reserve Chair Jay Powell has consistently advocated for a cautious and deliberate approach to any further policy decisions.
Christopher Waller, another influential Fed governor, has echoed this sentiment. He emphasized that current US economic data does not warrant immediate monetary tightening measures. However, he cautioned against prematurely concluding that the recent moderation in inflation is a long-term trend, emphasizing the importance of continued monitoring and analysis.
As the Federal Reserve continues its delicate balancing act between curbing inflation and supporting economic growth, these cautious stances from key officials underscore the central bank's commitment to carefully managing the nation's monetary policy.