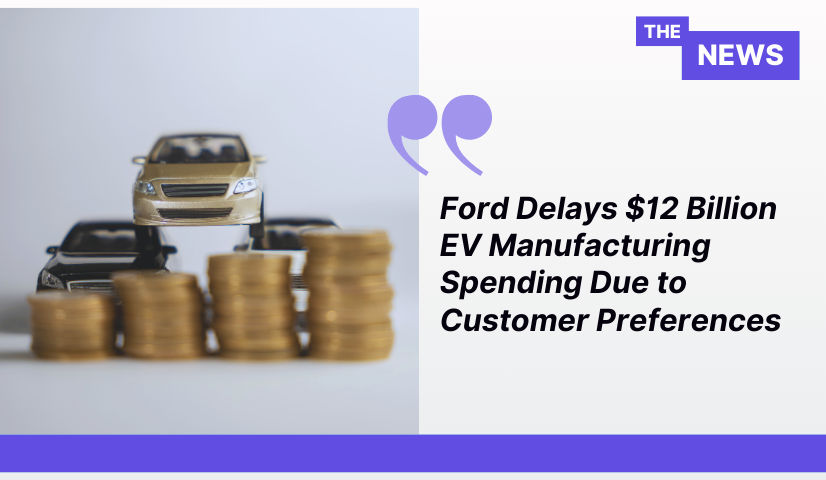 Key Takeaways
 Ford postpones $12 billion in EV manufacturing spending as customers in North America hesitate to pay extra for electric vehicles.
The company emphasizes its commitment to EVs but plans a more gradual ramp-up of manufacturing capacity.
Ford Adapts to Customer Preferences
Ford Motor Company has announced a shift in its electric vehicle (EV) manufacturing plans due to evolving customer preferences. The company is postponing approximately $12 billion in planned spending on new EV manufacturing capacity, including a second battery plant in Kentucky. This decision is in response to customers in North America showing reluctance to pay a premium for electric vehicles when compared to internal combustion engine or hybrid alternatives.
While Ford's electric vehicle sales have been growing, they haven't met the expected pace of growth, complicating the company's ambitious plans for increased EV production. Ford clarified that it's not reducing its investment in future EV models but is adjusting the speed of its EV manufacturing capacity expansion.
CFO John Lawler stated that Ford remains committed to its second-generation EV products, but the company will reevaluate the pace at which it's expanding its capacity. This means that some of the planned investments will be pushed out, while construction of the Blue Oval City, Ford's new EV manufacturing campus in Tennessee, will proceed as originally intended.
Lawler emphasized that the customer's choice will influence production volumes. Ford aims to balance the production of gasoline, hybrid, and electric vehicles to align with the adoption rate of EVs, giving them the flexibility to adapt production to customer preferences.
Challenges in the EV Market
In Ford's third-quarter earnings report, the company revealed that its electric vehicle business unit, known as Ford Model e, experienced an operating loss of $1.3 billion during the period. This figure represents double the loss from the same period in the previous year, despite a 26% increase in revenue.
For the first three quarters of 2023, the Model e unit recorded an operating loss of approximately $3.1 billion, consistent with Ford's prior guidance of an expected full-year operating loss of $4.5 billion for the Model e business unit.
In response to its tentative agreement with the United Auto Workers labor union, Ford withdrew all of its 2023 guidance. The company is adapting its approach to meet evolving customer preferences and maintain its position in the changing automotive landscape.