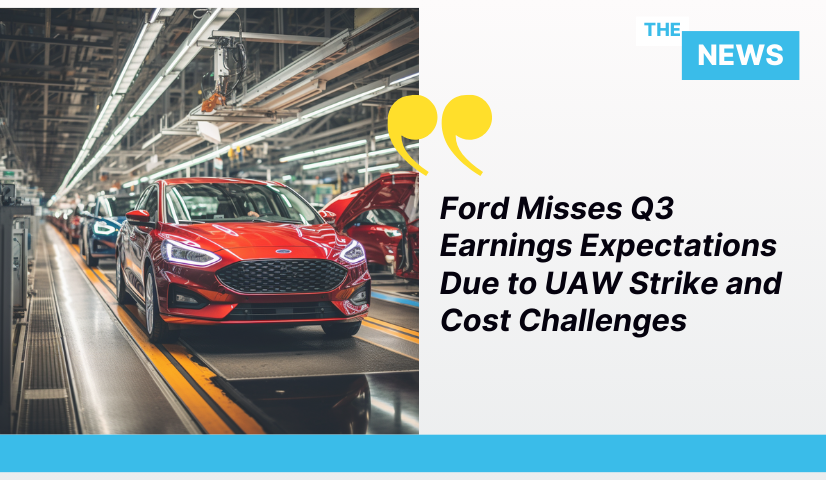 Key Takeaways
Ford's Q3 earnings fall short of Wall Street expectations due to the impact of the nearly six-week U.S. labor strike and cost and quality challenges.
The UAW strike cost Ford approximately $1.3 billion in lost production, while cost and quality issues continue to affect the company.
Challenges Impact Ford's Q3 Results
Ford Motor Company announced Q3 earnings that missed Wall Street expectations, primarily attributed to the fallout from a nearly six-week U.S. labor strike and ongoing challenges related to cost and quality. The automaker's shares fell approximately 4% in after-hours trading following the release of its earnings report.
The strike by the United Auto Workers (UAW) union, which concluded on Wednesday with a tentative deal, forced Ford to retract its earlier earnings guidance, which included adjusted earnings between $11 billion and $12 billion and adjusted free cash flow of $6.5 billion to $7 billion. Prior to the strike's commencement on September 15, the company was on track to meet its earnings guidance.
Q3 Results and Impact of UAW Strike
Ford's Q3 results showed adjusted earnings per share of 39 cents, falling short of the 45 cents expected by LSEG, formerly known as Refinitiv. Automotive revenue amounted to $41.18 billion, slightly below the $41.22 billion expected by LSEG. The UAW strike, combined with cost and quality issues, contributed to these financial discrepancies.
The UAW strike's impact has been significant, resulting in a $1.3 billion loss in production, including approximately $100 million during the third quarter. The strike led to the loss of around 80,000 vehicles produced to date, and restarting production poses considerable challenges.
Q3 Financial Results and Recovery
For the third quarter, Ford reported a net income of $1.2 billion, or 30 cents per share, compared to an $827 million loss, or 21 cents per share, in the same period the previous year. After adjusting for certain items, per-share earnings amounted to 39 cents. Overall revenue for the quarter increased by 11% to $43.8 billion, up from $39.39 billion in the previous year. Adjusted earnings before interest and taxes (EBIT) increased by 22% to $2.2 billion.
Ford's Q3 results reflect the challenges the company has faced, which have impeded its financial performance. These results contrast with crosstown rival General Motors, which surpassed Wall Street's Q3 expectations with adjusted earnings per share of $2.28 and revenue of $44.13 billion.
Adjusting to EV Market Challenges
Ford has faced lower-than-expected demand for its electric vehicles (EVs), attributed to rising raw material and labor costs and pricing pressure from prominent EV manufacturer Tesla. Despite the challenges, Ford remains committed to transitioning to EVs. The company will be delaying approximately $12 billion in previously announced EV investments, including the construction of an EV battery plant in Kentucky. However, Ford is proceeding with its new EV plant and campus in west Tennessee called Blue Oval City.
Ford plans to balance the production of gasoline, hybrid, and electric vehicles based on consumer preferences. The recently agreed-upon UAW deal is expected to add $850 to $900 per vehicle assembled, and Ford aims to offset these additional costs by enhancing productivity and cost-efficiency across the company.
UAW Tentative Agreement and Industry Challenges
The UAW strike and tentative agreement have posed challenges for Ford and other Detroit automakers. The tentative deal, which spans four and a half years, is estimated to cost Ford approximately $6.2 billion. It includes significant pay increases, cost-of-living adjustments, and improved benefits for UAW members. The Detroit automakers faced ongoing strikes by UAW members, leading to production disruptions due to the failure to reach labor agreements by the initial September 14 deadline covering 146,000 workers.
The UAW's announcement that Ford workers will return to work during voting puts pressure on General Motors and Stellantis to agree to the terms of the tentative agreement. Ford, like its competitors, navigates the evolving landscape of labor relations and industry challenges while seeking to maintain profitability.