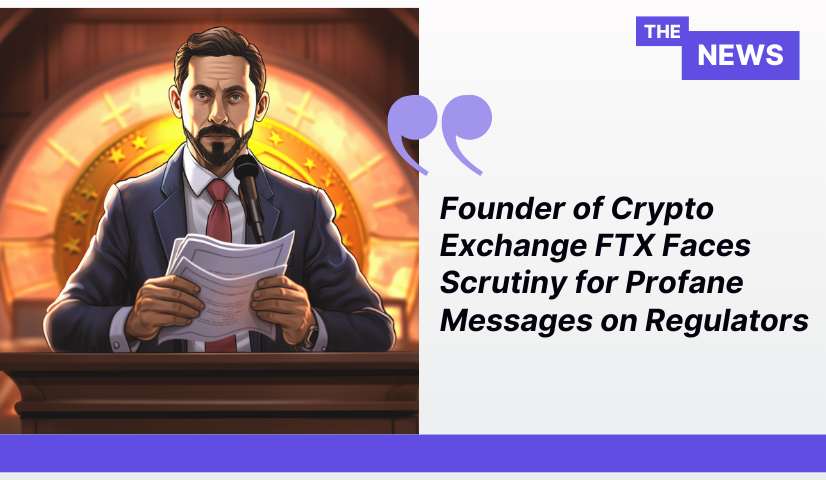 Key Takeaways
Sam Bankman-Fried, founder of FTX, sent profane messages to journalists regarding regulators, undermining his image as a proponent of cryptocurrency oversight.
The messages included derogatory language about regulators and U.S. lawmakers, questioning his true intentions regarding crypto regulation.
Unveiling a Different Side
In a surprising turn of events, the prosecution in Sam Bankman-Fried's fraud trial revealed a series of profanity-laden messages that the FTX founder had sent to journalists. These messages contrasted with the image he had cultivated as an advocate for cryptocurrency regulation.
Explicit Messages Exposed
U.S. District Judge Lewis Kaplan overruled objections by Bankman-Fried's legal team and permitted the jurors to see a profane message he sent to a reporter at Vox. The message was conveyed just days after FTX's collapse in November 2022. In it, he vented his frustrations about regulators, alleging that they "make everything worse."
Jurors also witnessed another profanity-laced message that Bankman-Fried directed at a journalist for the crypto news site, The Block, via Twitter (now known as X). This message even made reference to U.S. Securities and Exchange Commission Chair Gary Gensler.
Within the message to the journalist, Bankman-Fried insinuated that U.S. lawmakers were "dumb" and on the verge of surrendering the cryptocurrency industry to Gensler. The SEC has been perceived within crypto circles as more adversarial to the industry compared to another federal agency, the Commodity Futures Trading Commission.
Sam Bankman-Fried, who commenced trial proceedings on October 3, faces allegations of siphoning billions of dollars from FTX customer funds. The funds were purportedly used for investments, political campaign contributions, and to bolster his hedge fund, Alameda Research. Prosecutors contend that his political donations were aimed at advancing cryptocurrency-friendly legislation.
The former billionaire, aged 31, has entered a plea of not guilty to two fraud charges and five conspiracy counts. Conviction on these charges could lead to several decades of imprisonment.
Profanity-Laden Messages as Evidence
Bankman-Fried's legal team had endeavored to prevent prosecutors from presenting the messages as evidence. They argued that the messages, characterized as "off-the-cuff musings," were conveyed after the trial's relevant time period and had the potential to prejudice the jury against him.
Prosecutor Danielle Sassoon argued in favor of admitting the messages, asserting that they were "highly probative" in revealing Bankman-Fried's true state of mind at the time. She pointed out that he later believed the conversation with the Vox reporter was off the record. Ultimately, Vox published the messages.
Bankman-Fried explained that his previous statements supporting cryptocurrency regulation were merely a matter of public relations, not reflective of his true intentions at the time when he interacted with regulators.
Prosecutors anticipate the possibility of resting their case as early as October 26. Bankman-Fried's legal team has hinted that he is considering testifying in his own defense, potentially shedding further light on the matters at hand.