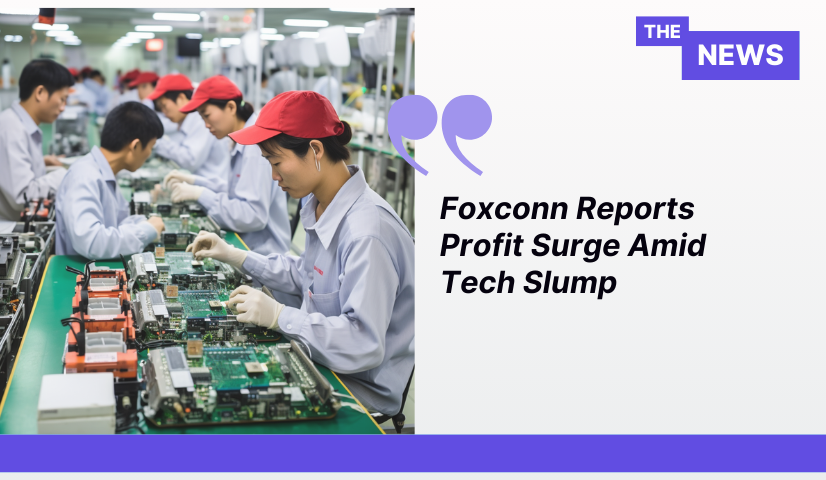 Key Takeaways

Foxconn's Q3 profit exceeds estimates, rising 11.27% year-on-year.
The company navigates a global electronics downturn with optimistic future plans.
Foxconn's Financial Performance
Apple iPhone supplier Foxconn, officially Hon Hai, has reported a notable 11.27% increase in third-quarter profits from the previous year. This profit rise comes despite the ongoing slump in the consumer electronics sector. Foxconn's revenue and net income for the quarter surpassed LSEG consensus estimates, indicating a robust financial performance amidst market challenges.
The Taiwanese firm recorded an operating revenue decline of 11.64% year-on-year, reaching NT$1.543 trillion. However, its net income substantially increased to NT$43.13 billion, beating analysts' forecasts. This performance reflects the company's resilience and adaptability in a volatile market environment.
Global Smartphone Market Dynamics
According to Counterpoint Research, global smartphone sell-through volumes in Q3 grew quarter-on-quarter, yet fell 8% year-on-year, marking the lowest level in a decade. Despite these challenges, certain positive signs, such as the performance of new products like Apple's iPhone 15 series, suggest potential market recovery.
Industry Insights and Future Outlook
Research firm Canalys reported a slowdown in the global smartphone market's decline, with only a 1% drop in Q3 2023. This trend, driven by regional recoveries and new product demand, points to a possible stabilizing market. Canalys highlighted the impact of new launches from Huawei and Apple in energizing the market.
The ongoing electronics slump, exacerbated by global macro uncertainties and inflation, has significantly affected consumer electronics demand. This decline has impacted companies like Foxconn, which is bracing for continued macroeconomic and geopolitical challenges in 2024.
Foxconn's Strategic Investments and Regulatory Challenges in China
Amidst these market conditions, Foxconn is making strategic investments to diversify and strengthen its manufacturing capabilities. The company announced a substantial investment in India for phone production and semiconductor equipment facilities, which could account for a significant portion of its manufacturing, akin to its operations in China.
Foxconn faced additional challenges as several of its Chinese subsidiaries underwent tax audits and land use investigations. These regulatory hurdles complicate Foxconn's operations in China, a key market for the electronics manufacturing giant.