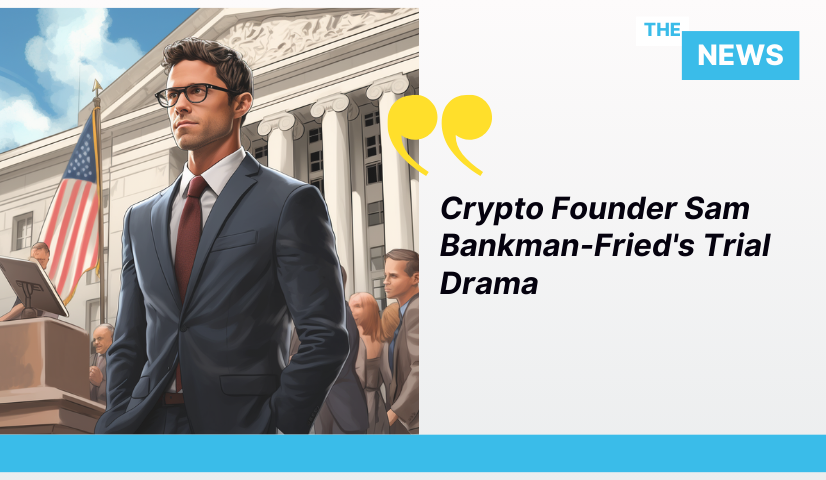 Key Takeaways

FTX founder Sam Bankman-Fried's trial enters a crucial phase with his testimony.
Bankman-Fried shifts blame, raises concerns, and delves into the circumstances leading to FTX's collapse.
The Testimony Unveils Concerns and Struggles
In the latest turn of events at the criminal fraud trial of FTX founder Sam Bankman-Fried, the entrepreneur utilized his time on the stand to place responsibility for the downfall of his crypto empire on his former close friends and colleagues. Facing potential life sentences if convicted, Bankman-Fried blamed Caroline Ellison, his ex-girlfriend and former head of Alameda, for the crisis.
During the trial, Bankman-Fried revealed his growing concerns about Alameda's financial health, specifically its net asset value dropping from $40 billion to $10 billion amid a crypto market decline. In discussions with Ellison, he expressed fears of insolvency if the market dropped further. Ellison, who is cooperating with the government, reportedly acknowledged the risk and even suggested resigning. However, Bankman-Fried emphasized that his intention was not for her to step down but to urgently implement hedging strategies.
Defensive Measures and Internal Challenges
As the trial progressed, Bankman-Fried defended his actions, stating that he regularly checked in with Ellison about hedging activities. He highlighted his efforts to ensure the firm was adequately hedged, suggesting that there was room for improvement in the scale of trades. The entrepreneur's testimony aimed to portray his commitment to securing Alameda against further market volatility.
The trial delved into the tumultuous period from Nov 1 to Nov 11, coinciding with FTX's rapid collapse. Bankman-Fried disclosed details about internal challenges, including Gary Wang's efforts to fix a backlog of bitcoin withdrawals. Additionally, the defense brought to light the personal struggles of FTX's engineering director, Nishad Singh, revealing a troubled financial situation and suicidal thoughts.
Blaming General Counsel and Swift Downfall
Bankman-Fried shifted blame to Can Sun, FTX's general counsel, claiming that a conversation with Sun prior to a call with investment fund Apollo failed to disclose an $8 billion liability. The entrepreneur described the swift downfall of FTX, likening it to a "run on the bank" with customer withdrawals surging from $50 million to $1 billion daily. He emphasized the urgency of liquidating open margin trades to meet customer fund withdrawals.
Defense Strategies and Customer Reassurance
Bankman-Fried defended his communication strategy during the crisis, particularly his tweets aimed at calming customer concerns. He reiterated that his belief in the exchange's stability led to tweets like "assets are fine," insisting that he thought Alameda's net asset value was around $10 billion. The entrepreneur shared his realization on Nov 8 that Alameda needed to be shut down and his subsequent efforts to secure external capital.
Cross-Examination and Profane Comments
During cross-examination, Assistant U.S. Attorney Danielle Sassoon probed Bankman-Fried's past statements and actions. The defendant frequently responded with brief answers, including several instances of "I don't recall." Sassoon presented exhibits to dispute Bankman-Fried's claims, highlighting contradictions in his public statements, marketing FTX as safe, and past profane comments about regulators.
Sassoon delved into Bankman-Fried's personal life and the extensive hours he claimed to work. The prosecution questioned the defendant's statements about FTX's global exchange safety and his storytelling abilities. Revelations about Bankman-Fried's past profane comments, private plane travels, and FTX's extravagant expenses were presented, adding layers to the prosecution's case.
Anticipated Cross-Examination Impact
Former prosecutor Renato Mariotti anticipates a "devastating" cross-examination, pointing to Bankman-Fried's prior statements. The prosecution aims to challenge the defendant's credibility and unravel inconsistencies in his narrative. With the defense wrapping up its case soon, the trial is poised for a critical phase.
As Bankman-Fried's testimony unfolds, the trial offers a deep dive into the internal dynamics and decision-making that led to the collapse of FTX and Alameda. The prosecution's cross-examination is anticipated to provide further insights, scrutinizing the entrepreneur's claims and establishing the case against him. With the impending conclusion of the defense's case, the trial's next phases hold significant weight in determining the fate of Sam Bankman-Fried and the implications for the crypto industry.