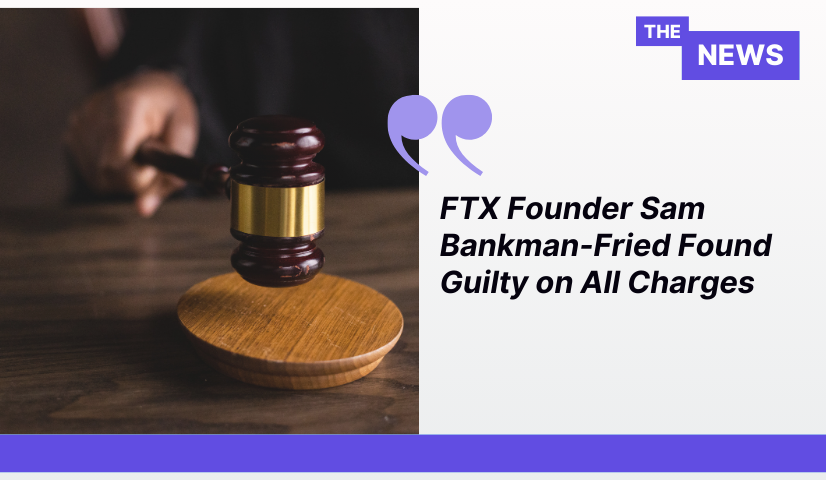 Key Takeaways

A jury unanimously convicts FTX founder Sam Bankman-Fried on all seven criminal charges.
The presiding Judge Lewis Kaplan, known for his no-nonsense approach in the courtroom, will determine the length of Bankman-Fried's prison sentence.
Legal experts anticipate a potentially substantial prison term for Bankman-Fried due to the severity and scale of the charges.
Sam Bankman-Fried: Guilty on All Counts
In a conclusive legal battle, Sam Bankman-Fried, the founder of cryptocurrency exchange FTX, has been unanimously found guilty on all seven criminal charges brought against him. This verdict marks a pivotal moment in the case, leaving the length of his prison sentence to the discretion of the presiding judge, Lewis Kaplan.
Judge Lewis Kaplan, a 78-year-old veteran of the Southern District of New York, brings a no-nonsense approach to the courtroom. Throughout his extensive career, he has overseen high-profile cases and earned a reputation for swift admonishment of any courtroom disruptions, from evasive witnesses to inattentive gallery members. In the case of Sam Bankman-Fried, Judge Kaplan's straightforward manner was evident in his dealings with the defendant.
Bankman-Fried's Testimony: A Complex Landscape
During his four days on the stand, Sam Bankman-Fried's testimony presented a complex landscape. Under direct examination, his responses sometimes consisted of convoluted and contradictory sentences. His admission of not being a lawyer added intricacy to his answers, making it challenging to decipher his testimony accurately.
On cross-examination, Bankman-Fried transitioned to repetitive "Yup" and "I don't recall" responses, raising questions and leading to the presentation of evidence by the government that often contradicted his statements. This combative attitude towards Assistant U.S. attorney Danielle Sassoon was noted by multiple legal experts.
The Sentencing Question: In Judge Kaplan's Hands
With the jury's unanimous guilty verdict, the sentencing decision now rests with Judge Kaplan. The sentencing date is scheduled for March 28 at 9:30 a.m. ET.
Bankman-Fried's convictions encompassed a range of charges, including wire fraud, conspiracy to commit wire fraud, securities fraud, commodities fraud, and money laundering. While the statutory maximum sentence could extend to around 115 years, sentencing guidelines consider the gravity of the crimes and the defendant's criminal history.
Anticipating the Sentence
Legal experts anticipate a potentially substantial prison term for Sam Bankman-Fried due to the sheer scale of the charges and the circumstances surrounding the case. Renato Mariotti, a former prosecutor, suggested that Bankman-Fried could face "the next 20 or 25 years of his life in prison." The severity of the fraud, the defendant's defiant behavior, and Judge Kaplan's limited patience for courtroom antics indicate that the judge may prioritize the victims in determining the sentence.