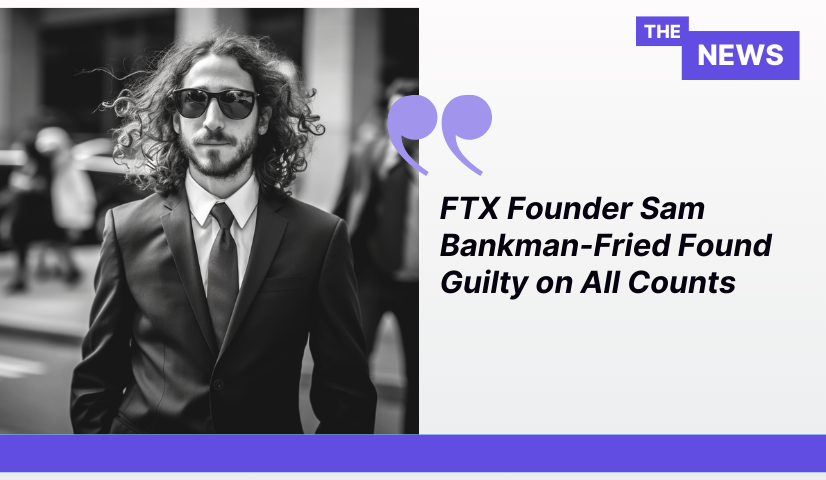 Key Takeaways

FTX founder Sam Bankman-Fried has been found guilty of wire fraud, securities fraud, and more, facing a maximum sentence of 115 years in prison.
Bankman-Fried's conviction is linked to the collapse of FTX and Alameda Research.
FTX Founder Sam Bankman-Fried Convicted on All Charges
In a significant legal development, a jury has delivered a verdict of guilt on all seven criminal counts against Sam Bankman-Fried, the 31-year-old founder of FTX. The charges include wire fraud, securities fraud, and conspiracy to commit money laundering, with potential implications that could result in a maximum prison sentence of 115 years.
Damian Williams, U.S. attorney for the Southern District of New York, described Sam Bankman-Fried's actions as "one of the biggest financial frauds in American history" during a briefing after the verdict. Attorney General Merrick Garland emphasized that this verdict demonstrates that "the Justice Department will hold you accountable" if one attempts to conceal crimes under the guise of innovation.
The trial, which commenced in early October, featured testimonies from former associates and top lieutenants of Bankman-Fried and the defendant himself. After deliberating for a few hours, the jury swiftly reached its verdict, marking a pivotal moment in a case that has garnered significant attention.
Sam Bankman-Fried's Response
Following the guilty verdict, Mark Cohen, Sam Bankman-Fried's attorney, stated that his client "maintains his innocence" and intends to "vigorously fight the charges against him." Bankman-Fried had previously pleaded not guilty to all charges, asserting that he had made business mistakes rather than committed fraud.
The central question for the jury revolved around Bankman-Fried's intent in using customer funds from FTX for various purposes, including real estate, investments, and covering losses at Alameda. The prosecution contended that $10 billion in customer funds had gone missing from FTX, while the defense maintained that Bankman-Fried's actions were not motivated by criminal intent.
The Comparison to Elizabeth Holmes
Sam Bankman-Fried's case has garnered comparisons to that of Elizabeth Holmes, the founder of Theranos, a medical device company. Holmes was found guilty in 2022 of defrauding investors and received a sentence of more than 11 years. While Holmes founded a different type of enterprise, both cases underline the potential legal consequences for high-profile business figures facing criminal charges.
As Sam Bankman-Fried awaits sentencing, the outcome of this case holds significant implications for the cryptocurrency industry and broader discussions around business ethics and accountability in the digital age.