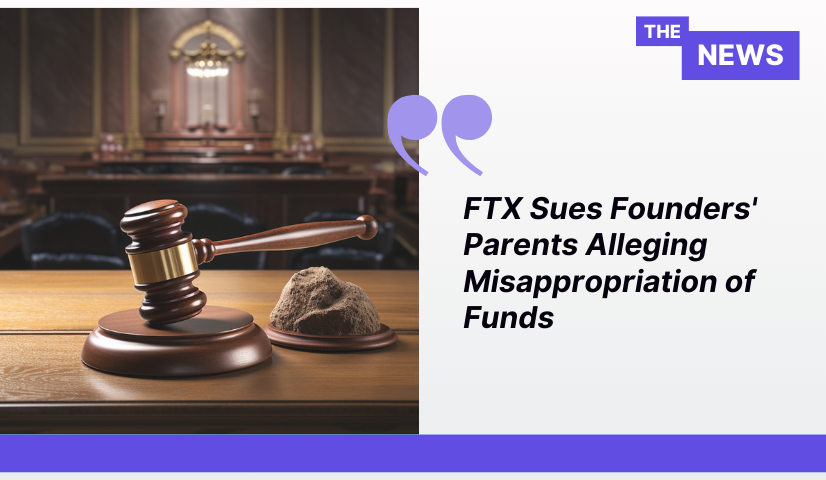 Key Takeaways

FTX has filed a lawsuit against the parents of its founder, Sam Bankman-Fried, alleging the misappropriation of exchange funds.
The lawsuit claims that Joseph Bankman and Barbara Fried used FTX funds for personal expenses and political donations.
Cryptocurrency exchange FTX has initiated a lawsuit against Joseph Bankman and Barbara Fried, the parents of its founder, Sam Bankman-Fried. The lawsuit alleges that the parents enriched themselves by diverting millions of dollars from the exchange for personal use and political contributions.
FTX debtors claim that Joseph Bankman, a tenured professor at Stanford Law School and a tax lawyer, used his influence to direct funds from FTX toward personal charitable causes. Additionally, they allege that Bankman provided gifts to friends and family, funded by FTX resources. These gifts included flights and tickets to events such as the Formula One Grand Prix in France.
Barbara Fried, also a tenured professor at Stanford Law School, is accused of obtaining substantial donations from Sam Bankman-Fried and an associate for Mind the Gap, a political action committee (PAC) supporting Democratic candidates during the 2020 US election cycle. Furthermore, she is alleged to have pressured certain FTX insiders to circumvent federal campaign finance laws, potentially violating disclosure requirements.
Sam Bankman-Fried, who was arrested in December following FTX's financial troubles, has asserted that his parents were not involved in the relevant aspects of the exchange's operations. Notably, Joseph Bankman and Barbara Fried have not faced criminal charges.
Involvement Since FTX's Founding
Lawyers representing the FTX debtors claim that Joseph Bankman and Barbara Fried played significant roles in FTX's operations from its inception. They argue that Bankman referred to Alameda Research, FTX's affiliated hedge fund, as a "family business" as early as 2018.
Even as FTX faced financial instability in the past year, the lawsuit alleges that Bankman and Fried discussed receiving a $10 million cash gift and a $16.4 million luxury property in the Bahamas from Sam Bankman-Fried.
Response from Bankman and Fried
In response to the lawsuit, lawyers representing Joseph Bankman and Barbara Fried issued a joint statement. They characterized the legal action as an attempt to intimidate and interfere with the jury process, particularly as their child's trial approaches. They firmly denied the allegations, describing them as "completely false."
Sam Bankman-Fried is currently incarcerated and is awaiting an October trial on multiple criminal charges. He has maintained his innocence throughout the legal proceedings.
In a related development, former FTX executive Ryan Salame recently pleaded guilty to charges related to unlawful political contributions and unlicensed money-transmitting business operations. Several members of Bankman-Fried's inner circle have reached similar agreements with prosecutors, although his parents have not been charged.
Separately, a federal appeals court in New York heard arguments concerning Sam Bankman-Fried's alleged unlawful incarceration. His legal team claimed that his ability to prepare for trial had been hindered, citing slow internet access. The court is expected to issue its ruling in due course.