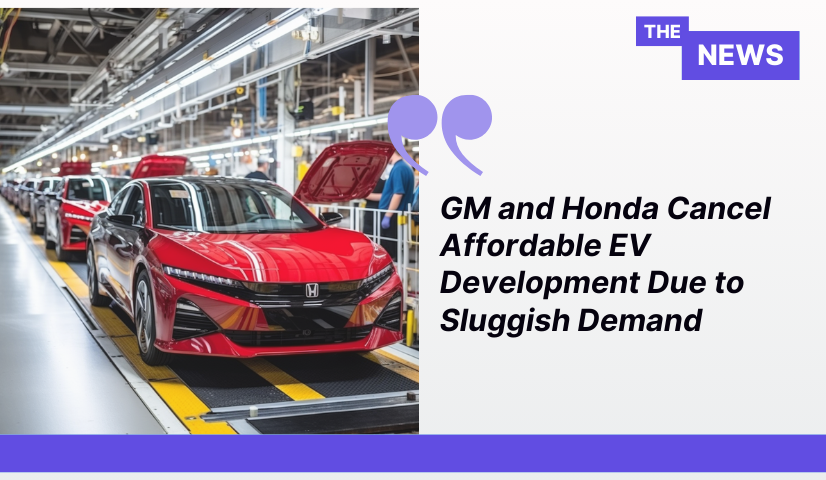 Key Takeaways
General Motors and Honda halt their partnership to develop affordable electric vehicles.
The EV market outlook dims due to higher costs, limited infrastructure, and slower consumer demand, leading to the program's discontinuation.
General Motors and Honda Discontinue Affordable EV Partnership
General Motors and Honda have decided to discontinue their plans to collaboratively produce affordable electric vehicles (EVs). This decision comes amid challenges in the EV market, such as slower-than-expected consumer demand and changing conditions. The cancellation of the partnership occurred approximately a year and a half after it was initially announced.
The partnership was expected to leverage GM's next-generation Ultium battery technology to manufacture millions of EVs designed for global markets, with a target price below $30,000. These EVs were set to include popular compact crossover vehicles, addressing the need for affordable options in the EV market.
However, since the partnership's inception, the outlook for EVs has dimmed. Several factors have contributed to this, including the higher-than-expected costs of EV production, a lack of essential charging infrastructure, and slower consumer adoption. As a result, both automakers concluded that moving forward with the joint program was no longer viable.
GM and Honda's Commitment to EV Affordability
Darryll Harrison, the spokesman for GM, stated, "After extensive studies and analysis, we have come to a mutual decision to discontinue the program. Each company remains committed to affordability in the EV market." While this partnership may have been canceled, GM emphasized its commitment to affordability within the broader EV market.
GM CEO Mary Barra suggested that the cancellation of a $5 billion capital commitment for entry-level EVs was related to the plan to introduce a next-generation Bolt. She highlighted the strength of GM's existing Bolt EUV and Ultium technology, which would enable the company to deliver a superior driving, charging, and ownership experience. Barra stated, "We will deliver an even better driving, charging, and ownership experience with a vehicle we know customers love."
It's important to note that the current Chevrolet Bolt models are available for under $30,000 without EV incentives.
Partnerships and Future Initiatives
While the affordable EV program is discontinued, other partnerships between GM and Honda remain intact. For instance, GM will produce the 2024 Honda Prologue EV as part of their ongoing collaboration. The two companies also have existing partnerships in areas such as hydrogen fuel cells and autonomous vehicles.
The decision to discontinue the affordable EV program coincided with GM's announcement of scaling back some near-term EV targets, production delays for at least three upcoming EV models, and postponing the expansion of a second all-electric truck plant in Michigan until late 2025. GM emphasized the importance of aligning production with actual demand in the current EV landscape.
Honda CEO Toshihiro Mibe, in an interview with Bloomberg Television, expressed that the affordable EV program was deemed unviable from a business perspective. However, Honda did not immediately respond to requests for further comment on the decision to terminate the program.
The discontinuation of the GM and Honda partnership underscores the rapidly changing dynamics in the EV market and the challenges faced by automakers as they navigate this evolving landscape.