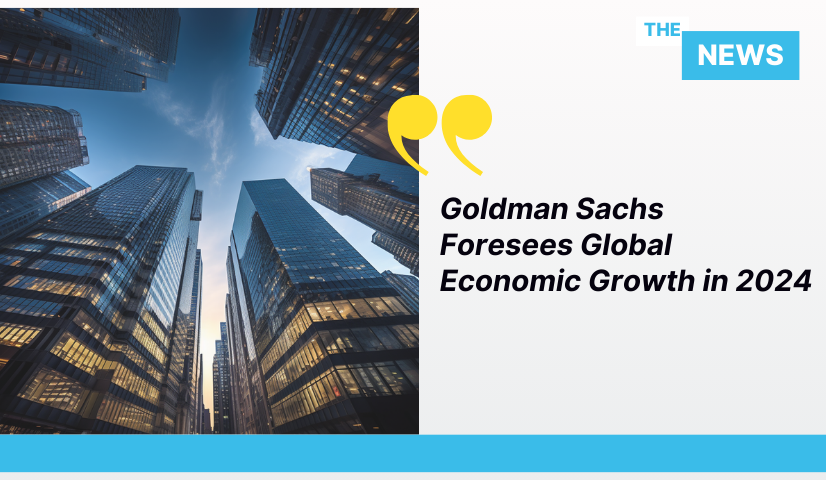 Key Takeaways

Goldman Sachs predicts a stronger-than-expected global economic growth in 2024.
Expected easing of monetary policies and rising real income drive a positive outlook.
Positive Global Economic Forecast
Goldman Sachs has projected an optimistic outlook for the global economy in 2024, predicting it will exceed current expectations. The investment bank forecasts a 2.6% expansion on an annual average basis, surpassing economists' 2.1% consensus forecast. Notably, the U.S. is anticipated to lead this growth among developed markets with an estimated 2.1% increase.
Goldman Sachs' optimistic forecast is underpinned by the belief that the significant drag from recent monetary and fiscal tightening policies is nearing its end. This outlook follows aggressive rate hikes initiated by the U.S. Federal Reserve since March 2022, aimed at curbing the highest inflation rates seen in 40 years. Goldman anticipates that developed markets will unlikely see rate cuts before the second half of 2024 unless economic growth falls short of expectations.
 Inflation Trends and Predictions
The report notes a cooling trend in inflation across G10 and emerging market economies, with expectations for further easing. Goldman Sachs predicts a decline in core inflation from the current 3% to an average range of 2-2.5% across the G10 (excluding Japan), providing a more stable economic environment.
Another factor contributing to Goldman's optimistic outlook is the expected recovery in global factory activity. Despite current challenges, such as the slowdown in Chinese manufacturing and the European energy crisis, Goldman Sachs sees potential for manufacturing activity to rebound in 2024. This recovery is anticipated to be driven by normalized spending patterns, stabilization in gas-intensive production in Europe, and a correction in inventory-to-GDP ratios.
Real Income Growth and Recession Risks
Rising real income is a vital component of the positive growth forecast. Goldman Sachs highlights strong labor markets and lower headline inflation supporting real disposable income growth. This trend is expected to sustain consumption and GDP growth, with the U.S. projected to maintain a steady pace of income growth. Consequently, Goldman Sachs sees limited recession risk, reaffirming a 15% probability for a U.S. recession.
The report also underscores significant expected improvements in real income growth in the Euro area and the UK by the end of 2024. This increase is attributed to the diminishing impact of the gas shock following Russia's invasion of Ukraine. Overall, Goldman Sachs' outlook suggests a rebound in global economic activity, supported by easing fiscal and monetary policies and strengthened income growth.