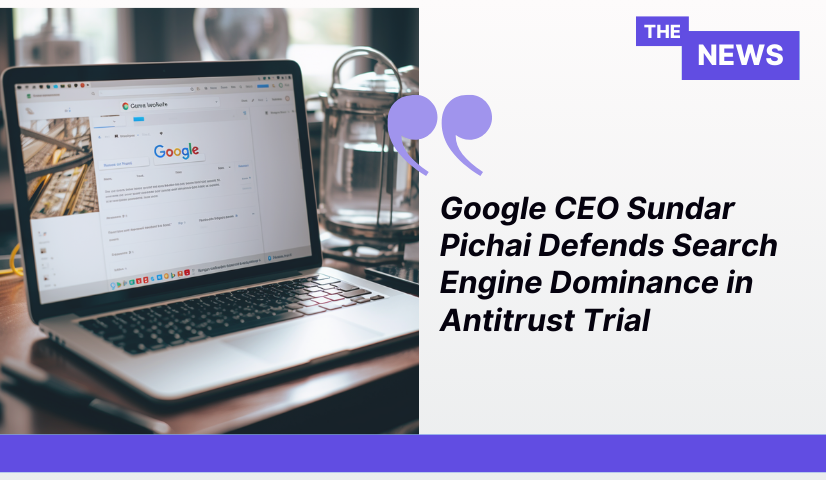 Key Takeaways

Google's CEO, Sundar Pichai, faces scrutiny in an antitrust trial, defending the company's search engine dominance and relationships with Apple.
The trial delves into allegations of Google's monopoly maintenance and concerns regarding internal chat messages.
Google CEO Faces Antitrust Trial
Google's CEO, Sundar Pichai, took the stand in a Washington, D.C. District Court, providing testimony that delved into various aspects of the technology giant's business practices. The trial is a significant moment for government attorneys seeking to hold Google accountable for securing a dominant position in the online search market. The U.S. Department of Justice and a coalition of state attorneys general have raised allegations that Google utilized exclusive deals with phone manufacturers and web browser-makers to suppress competition in online search.
Monopoly Maintenance Under Scrutiny
A key focus of the trial is whether Google's actions violate antitrust laws by maintaining an illegal monopoly. The government asserts that a lack of competition in general search tools ultimately deprives consumers of improved quality and choice. This trial allows government attorneys to present their case against Google.
The government's cross-examination of Sundar Pichai emphasized the circumstances Google faced in its earlier years, where the possibility of losing out on crucial distribution channels was a significant concern. The government's primary contention is that Google's practice of making its search engine the default option on various access points, such as web browsers and phones, effectively excludes competitors. This argument parallels Google's past objections to Microsoft's actions in 2005.
In the earlier case involving Microsoft, the tech giant planned to integrate a search engine into its web browser, Internet Explorer 7. Google expressed concerns that users would find changing the default search engine challenging, and Microsoft's search engine would likely dominate. Pichai testified that users stayed on Microsoft's search engine in the previous browser version.
User Preferences and Default Settings
Google's defense has centered on the idea that users can easily change their default search engines on browsers and phones. However, evidence presented during the trial indicates that most users do not alter these settings. A letter from Google's then-chief Legal Officer, David Drummond, to Microsoft's General Counsel, Brad Smith, from 2005, highlights this point.
Drummond recommended that users be prompted to select their preferred search engine when they use the inline search feature for the first time. Pichai argued that Google's stance was based on ensuring user preference and engagement.
The Google-Apple Relationship
During the trial, the Department of Justice raised concerns about Google's relationship with Apple and the potential of losing employees to competitors, including Apple. An email from Pichai in 2019, summarizing an executive's concerns about employee turnover, was presented as evidence. Pichai had requested monthly reports on losses to critical competitors and sought notifications if anyone from the search team joined Apple.
Close Ties and Business Deals
The relationship between Google and Apple became a focal point during the trial. Notes from a 2018 meeting involving Pichai and Apple's CEO, Tim Cook, revealed discussions about collaboration. A Google executive mentioned a vision of working as if both companies were one. Pichai stated that he didn't recall saying this and mentioned some excitement from the meeting.
In 2021, Pichai approved an extension of a 2016 deal with Apple. This deal is noteworthy as it underlines the significance of the relationship between the tech giants, even as they compete in other areas like the smartphone market.
Recent revelations in the trial showcased Google's financial investment. The company paid $26.3 billion in 2021 to secure its position as the default search engine on mobile phones and web browsers. This sum encompasses payments to Apple, among other companies.
The trial also touched on Google's internal chat message policies. The Department of Justice raised concerns about the company's practice of not automatically retaining internal chat messages. Google had a history-off option allowing messages to be deleted every 24 hours unless manually adjusted. Pichai acknowledged the existence of this feature and had taken measures to address it.
The trial thoroughly examines Google's business practices, its relationship with Apple, and allegations of antitrust violations. As Sundar Pichai's testimony continues, the technology world watches closely as the implications of this case extend far beyond the courtroom.