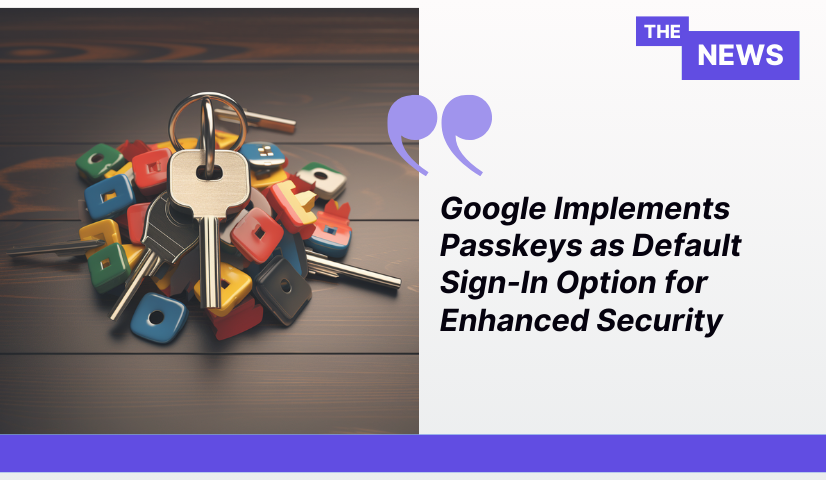 Key Takeaways
Google is making passkeys a default sign-in option for personal Google accounts, reducing the reliance on traditional passwords.
Passkeys provide a safer and more secure authentication method by utilizing facial recognition, fingerprint scans, or PIN numbers, thereby minimizing the risk of password theft.
Enhancing Online Security with Passkeys
Google is taking a significant step toward a future in which traditional passwords are no longer a necessity for secure account access. The tech giant announced on Tuesday that it is making passkeys the default sign-in option for personal Google accounts, reflecting the company's commitment to enhancing online security and user convenience.
The Advantages of Passkeys
Passkeys offer a safer and more secure alternative to passwords. Launched by Google in May, they eliminate the vulnerabilities associated with traditional passwords, such as the risk of hacking or accidental sharing. Passkeys can be established using facial recognition, fingerprint scans, or a personal identification number (PIN). This multi-factor authentication approach significantly minimizes the effectiveness of phishing attacks aimed at stealing passwords.
Even if a user's device is lost or stolen, passkeys remain secure. Accessing an account with passkeys requires biometric information or knowledge of the designated PIN. This ensures that even in the event of device loss, unauthorized access is nearly impossible. The cryptographic technology behind passkeys verifies the presence of the correct device and only grants access upon successful biometric authentication or PIN entry.
Google's announcement comes with a call for the wider technology industry to embrace passkeys and reduce the dependence on traditional passwords. The company's blog post states, "In the meantime, we'll continue encouraging the industry to make the pivot to passkeys—making passwords a rarity and eventually obsolete."
User Choice and Adoption Across Apps
While passkeys are being introduced as the default sign-in method, Google remains flexible to user preferences. Those who prefer traditional passwords can choose not to utilize the passkey option, ensuring that the transition is user-driven.
An increasing number of applications and companies have already adopted passkeys for user authentication. Prominent platforms such as YouTube, Google Search, Google Maps, Uber, and eBay have integrated passkeys, offering users a secure and user-friendly means of accessing their accounts. This growing adoption underscores the industry's recognition of the advantages of passkeys in enhancing online security.
The Future of Password-Free Authentication
With Google's introduction of passkeys as the default sign-in method, users can expect an enhanced level of security and convenience when accessing their personal Google accounts. The adoption of multi-factor authentication through facial recognition, fingerprint scans, and PIN numbers marks a pivotal shift towards a future where traditional passwords become increasingly rare and, eventually, obsolete. Google's commitment to passkeys reflects the industry's ongoing efforts to reduce online vulnerabilities and protect user data.