Key Points

Grab cuts 1,000 jobs for strategic reorganization and adapting to AI. On track to achieve breakeven, provides support to affected employees. Reflects broader Southeast Asian tech industry trends.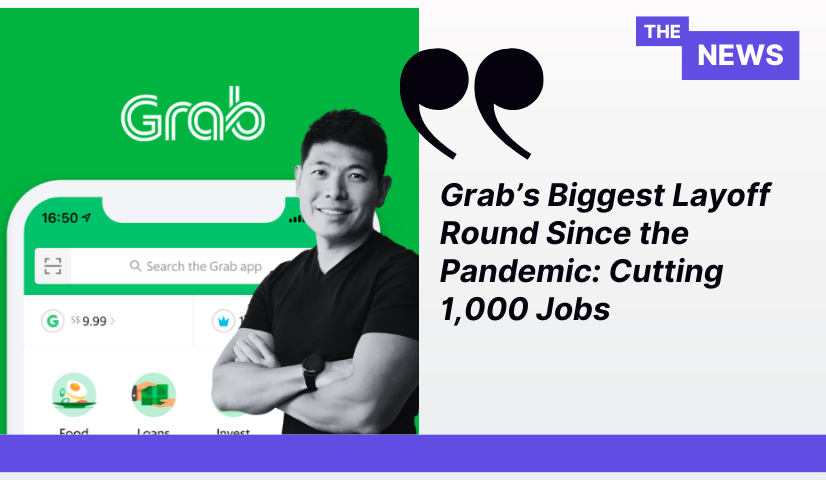 Singapore-based Grab Holdings has announced its largest layoff round since the pandemic, resulting in the elimination of over 1,000 jobs. This strategic move aims to streamline operations, manage costs, and enhance Grab's competitive position in the market.
Streamlining Operations and Managing Costs
In an email to staff, CEO Anthony Tan acknowledged the painful nature of the layoffs but emphasized their necessity in reorganizing the company. The goal is to optimize resources, increase efficiency, and align with long-term strategies. This round of layoffs surpasses Grab's previous reduction of 360 jobs in 2020 due to the challenges posed by the Covid-19 pandemic.
CEO's Vision for Future Competitiveness
Tan expressed confidence that, even without layoffs, Grab is on track to achieve breakeven this year in terms of group adjusted earnings. The company has brought forward its breakeven target to the fourth quarter of 2023, half a year earlier than previously planned. This strategic decision positions Grab for long-term success in a highly competitive market.
Adapting to the Changing Business Landscape
Tan clarified that the job cuts are not a "shortcut to profitability" but a necessary step to adapt to the evolving business environment. Grab aims to stay ahead by embracing advancements such as artificial intelligence (AI) technologies. This proactive approach ensures Grab's agility and relevance in the rapidly changing industry.
Compensation and Support for Affected Employees
Grab is committed to supporting its affected employees during this transition. Severance payments will be provided, amounting to half a month's salary for every six months of completed service or in accordance with local statutory guidelines, whichever is higher. Additionally, medical insurance coverage will be extended until the end of the year, along with repatriation support and assistance in career transition and development.
Contrasting Strategies: Grab vs. U.S. Tech Giants
Unlike major U.S. tech firms, such as Amazon and Meta, which experienced a hiring spree during the pandemic followed by significant layoffs, Grab's approach is strategic and focused on sustainable growth. This deliberate strategy ensures Grab's ability to navigate market fluctuations while prioritizing long-term success.
Southeast Asian Tech Industry Trends
Grab's announcement reflects a broader trend within the Southeast Asian tech industry. Companies like Indonesia's GoTo and Singapore-based Sea have also implemented substantial layoffs as part of their efforts to boost profitability and adapt to market conditions. These industry shifts highlight the challenges and opportunities faced by tech companies in the region.
Despite the challenges, Grab remains resilient and committed to achieving its goals. The company's strong revenue growth and narrowed losses in 2022 demonstrate its ability to rebound and adapt to changing market dynamics.