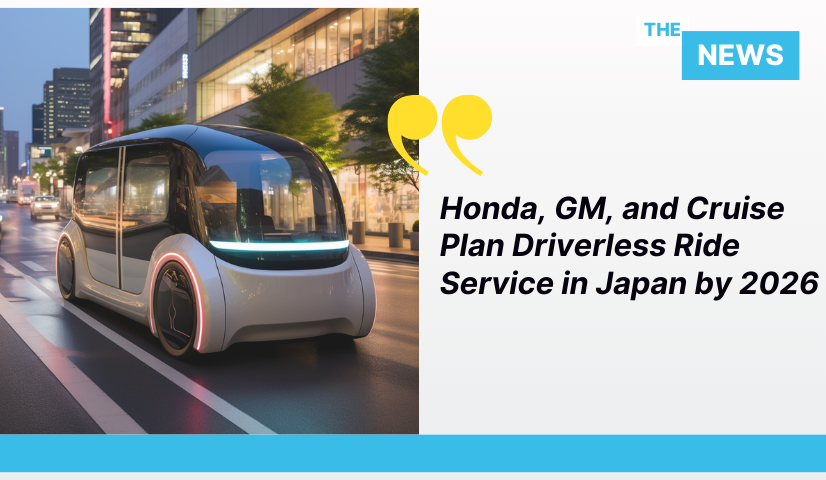 Key Takeaways
Honda, General Motors, and Cruise are working together to establish a joint venture and launch a driverless ride service in Japan by early 2026.
The service will begin in central Tokyo, with plans to expand to other areas. Customers can use a smartphone app for ride hailing and payments.
Honda Motor Corporation, in partnership with General Motors (GM) and Cruise, is embarking on an ambitious journey to introduce a driverless ride service in Japan. With a target launch date set for early 2026, this joint venture seeks to revolutionize transportation in the Land of the Rising Sun. The collaborative effort represents a significant step towards achieving widespread autonomous mobility.
A Vision of Driverless Transportation
The three corporate giants are committed to making autonomous mobility a reality. By planning to establish the joint venture within the first half of 2024, pending regulatory approval, they aim to bring cutting-edge technology to the streets of Japan. Cruise, GM's autonomous vehicle subsidiary, has already been offering limited ride services in San Francisco, where they compete with rivals like Waymo, operated by Alphabet Inc.
A key component of this initiative is the Cruise Origin vehicle, developed collaboratively by General Motors, Cruise, and Honda. This autonomous vehicle will be at the forefront of the service, contributing to safe and efficient transportation. It will make its debut in central Tokyo, where passengers can experience the future of driverless ride services.
While central Tokyo is the initial launch location, the companies have expansive plans. The service will eventually extend to areas beyond central Tokyo, offering a broader reach for commuters and travelers. As Japan embraces the potential of autonomous transportation, more regions may benefit from this innovative solution.
Convenience Through Technology
Customers seeking to utilize this futuristic mode of transportation will have the convenience of a smartphone application. Using the app, they can seamlessly hail a ride and make payments. This user-friendly approach is expected to enhance the overall experience and accessibility of the driverless ride service.
The collaboration between Honda, General Motors, and Cruise to introduce a driverless ride service in Japan is a significant development in the field of autonomous mobility. As they work toward making this vision a reality by 2026, it represents a notable step in revolutionizing transportation not only in Japan but also globally. The introduction of the Cruise Origin vehicle and the expansion plans for service areas indicate a commitment to advancing the future of transportation through innovative technology.