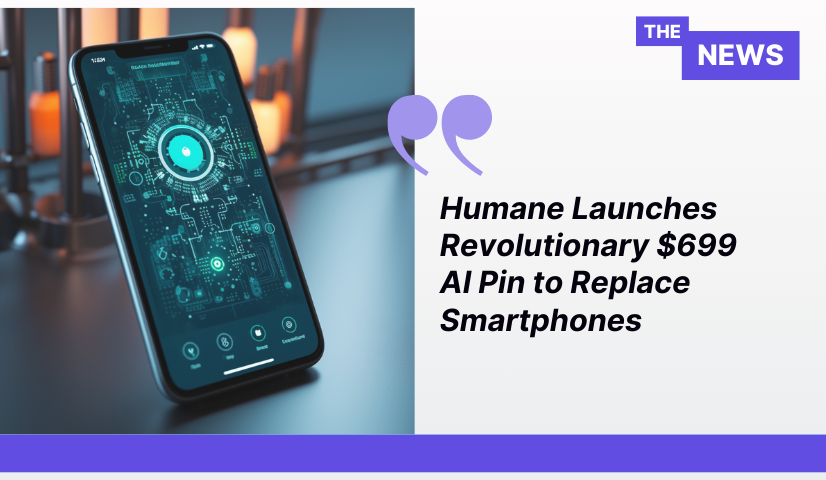 Key Takeaways

Humane introduces the AI Pin, a $699 lapel device revolutionizing smartphone functionalities with voice controls and a palm-sized laser display.
The device, not tethered to a smartphone, prioritizes privacy by engaging only upon user interaction. It boasts a $100 million financing round and strategic partnerships with tech giants.
Revolutionizing Tech with the AI Pin
Humane, the five-year-old AI startup founded by former Apple designers Imran Chaudhri and Bethany Bongiorno, has unveiled its groundbreaking product—the 'AI Pin'. Priced at $699, this lapel pin is positioned as a revolutionary alternative to smartphones, introducing novel features that challenge traditional mobile devices.
Innovative Features and User Interaction
The Humane AI Pin offers voice-controlled functionalities, allowing users to make calls, send texts, and access information through intuitive voice commands. Unlike conventional voice-activated devices, the pin operates without constant listening. It remains dormant until prompted by user engagement, which can be initiated through voice, touch, gesture, or the unique laser ink display.
One of the standout features is the laser display, turning the user's palm into a miniature screen capable of showcasing the time, date, or nearby information. The absence of wake words ensures the device isn't continuously recording, enhancing privacy. However, the engagement options are versatile.
To utilize the AI Pin fully, customers will require a $24 monthly data subscription to T-Mobile. The device's standalone functionality, including a separate phone number, sets it apart from tethered smartwatches.
Investment and High Expectations
Humane raised eyebrows earlier in the year with a $100 million financing round from notable investors, including Microsoft, LG's venture arm, and Tiger Global, before officially unveiling its product. With over $200 million in total funding, the company has garnered support from influential figures like OpenAI CEO Sam Altman and Salesforce CEO Marc Benioff.
Order Availability and Technology Partnerships
Humane has announced that orders for the AI Pin will be accepted starting November 16. Powered by a Qualcomm chipset, the device features a built-in speaker and camera. Notably, it operates with contributions from major tech players, including Microsoft, Google, and OpenAI, providing users access to AI services directly from the internet.
The AI Pin showcases a range of applications, from sending texts to real-time translation of spoken conversations. Users can engage in various AI services without the need for downloaded apps. Music enthusiasts can subscribe to Tidal to access songs while the device's assistant seamlessly summarizes daily calendars, messages, and health data.
Humane's AI Pin marks a significant stride in redefining how users interact with technology, emphasizing privacy, versatility, and an innovative approach to standard smartphone functionalities.