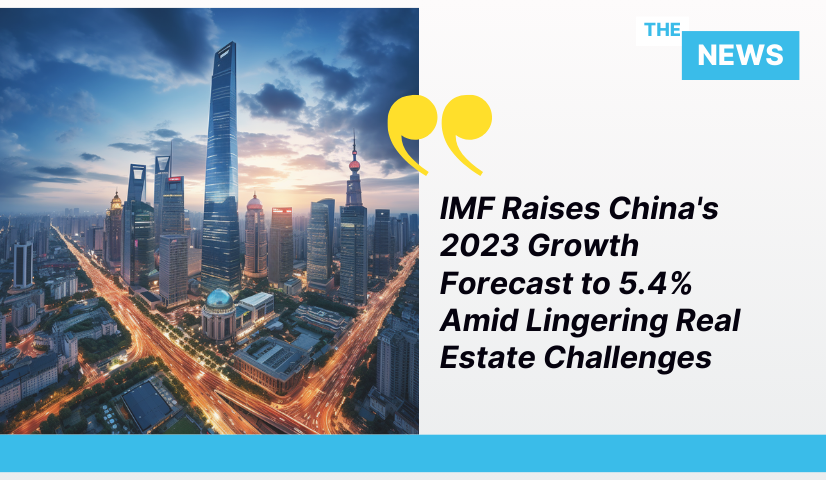 Key Takeaways

The IMF has upgraded China's growth forecast for 2023 to 5.4% due to better-than-expected third-quarter growth and Beijing's policy adjustments.
Despite the growth upgrade, the IMF anticipates a slowdown to 4.6% next year, primarily due to ongoing struggles in the property market and subdued external demand.
IMF Raises China's Growth Forecast for 2023
The International Monetary Fund (IMF) has announced an upward revision to China's growth forecast for 2023, now anticipating a growth rate of 5.4%. This adjustment comes in response to China's better-than-expected third-quarter economic performance and policy measures introduced by Beijing. However, the IMF remains cautious about the challenges posed by the real estate sector.
Despite the short-term growth improvement, the IMF expects China's economic growth to moderate in the following year, projecting a growth rate of 4.6%. This slowdown is attributed to persistent difficulties in the real estate market and subdued external demand.
Real Estate Challenges Persist
In an exclusive interview with CNBC, the IMF's First Deputy Managing Director, Gita Gopinath, emphasized that the real estate market in China continues to face substantial pressure. Weakness and stress persist in this sector, requiring a sustained effort to address the issues effectively.
Gopinath stressed that the challenges in the real estate market will not be resolved quickly and will demand more time to transition toward a more sustainable size. Real estate and related sectors account for over a quarter of China's economy, and experts suggest that it may need to contract by as much as 10% to ensure stability.
While Beijing initiated measures to curtail the heavy reliance of developers on debt for growth in 2020, some recent regulatory adjustments have been made to alleviate these restrictions. Yet, challenges remain as developers grapple with financing difficulties and project delays, leading to mortgage boycotts in the previous year. In the Chinese market, homes are typically sold before construction begins.
Gopinath acknowledged that progress has been made in addressing these concerns, but further actions are required. She highlighted the significance of direct funding by the central government to boost household confidence alongside the swift exit of nonviable property developers. Additionally, she stressed the importance of allowing housing prices to adjust more flexibly to facilitate a smoother transition.
China's Focus on High-Quality Growth
China has been shifting its focus from solely pursuing headline growth numbers to emphasizing "high-quality growth." The IMF's Gita Gopinath noted that Chinese authorities aim to achieve sustainable, inclusive, and environmentally responsible growth. This strategy includes promoting a green economy and transitioning from an investment-driven model to a consumption-driven one.
Strengthening the social safety net is a critical component of encouraging households to spend rather than save, contributing to the realization of high-quality growth. The IMF's visit to China in late October and early November involved discussions with key figures in the Chinese financial and regulatory landscape.
Financial Stability Risks and Economic Challenges
The IMF also raised concerns about elevated and increasing financial stability risks in China. Financial institutions are facing lower capital buffers and growing asset quality risks. These risks are a significant area of attention for Chinese policymakers as they strive to maintain macro-financial stability.
China reported a 4.9% growth in gross domestic product for the third quarter, surpassing expectations and bolstering the outlook for full-year growth. Recent policy measures have aimed at providing further support to the struggling real estate sector and local governments. The decision to increase the budget deficit was another exceptional move by Beijing.
Gopinath expressed support for Beijing's efforts to engineer the necessary adjustments in the property market. The challenge, however, lies in minimizing economic costs and containing risks to macro-financial stability. The IMF also highlighted the importance of focusing on risks emanating from the property sector, local government debt, and small and medium-sized banks.
As China navigates economic challenges and strives for high-quality growth, the role of the real estate sector and its stability will remain a central concern for policymakers and international organizations like the IMF.