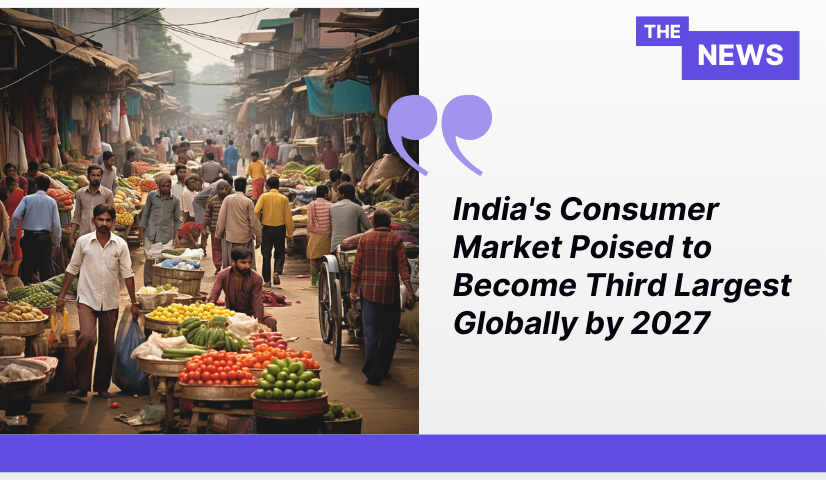 Key Takeaways

India's consumer market is expected to climb to the third-largest globally by 2027, fueled by a surge in middle to high-income households.
A 29% increase in real household spending is projected, with India's household spending per capita outpacing other developing Asian economies at 7.8% year-on-year.
India's Ascendant Consumer Market
India, currently ranking fifth in global consumer markets, is on track to become the world's third-largest consumer market by 2027. A report by BMI highlights the factors propelling this remarkable growth, with a projected 29% increase in real household spending.
This surge in consumer spending is driven by a variety of factors, including a rising number of middle to high-income households and robust urbanization. India's consumer market is witnessing a significant transformation, with household spending per capita set to outpace that of other developing Asian economies like Indonesia, the Philippines, and Thailand at a compelling rate of 7.8% year-on-year.
India's Soaring Disposable Income
BMI's report estimates that India's household spending will surpass $3 trillion as disposable income experiences a compounded annual growth rate of 14.6% until 2027. This growth is expected to elevate approximately 25.8% of Indian households to an annual disposable income of $10,000 or more.
Major economic centers such as New Delhi, Mumbai, and Bengaluru will host the majority of these wealthier households. Their urban location positions them as prime targets for retailers looking to engage with key consumer markets.
Youthful Demographics and Urbanization Fuel Consumer Spending
India's demographic advantage is another significant driver of increasing consumer spending. Roughly 33% of the country's population falls within the age bracket of 20 to 33 years old. BMI predicts that this demographic group will contribute significantly to consumer spending, particularly in the electronics sector.
The report anticipates substantial growth in communications spending, with an average annual increase of 11.1%, resulting in a communications market worth $76.2 billion by 2027. This trend is attributed to a technology-literate urban middle class with rising disposable incomes, fostering spending on aspirational products like consumer electronics.
India's ongoing urbanization plays a pivotal role in driving consumer spending. As urbanization continues, companies find it easier to access consumers and establish physical retail stores to cater to their needs.
Major global brands, such as Apple and Samsung, are capitalizing on this trend by expanding their retail presence in Indian cities like Delhi, Mumbai, and Chennai. This move underscores the attractiveness of India's consumer market for international corporations.
Furthermore, global investors like Blackstone Group and APG Asset Management have shown increased interest in India's shopping mall business. They are seeking to capitalize on the growth potential of consumer spending in the country.