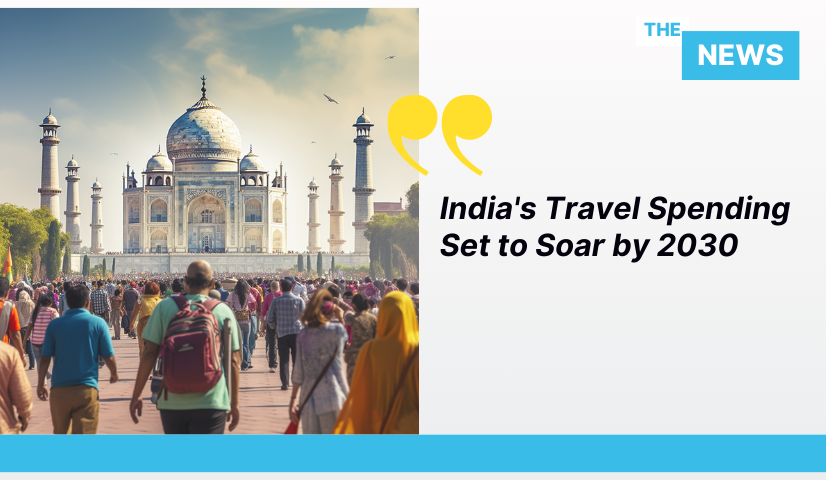 Key Takeaways

 A recent report suggests that Indian travelers may become the fourth-largest global travel spenders by 2030.
Despite accounting for only 1% of outbound travel in the past year, India is expected to see significant growth in travel expenditure and trips.
India's Travel Spending on the Rise
Revenge travel may have waned in some parts of the world, but the desire to explore the globe remains strong among Indian travelers. A recent report by Booking.com and McKinsey highlights India's potential to become the fourth-largest global travel spender by 2030, marking a significant shift in travel trends.
One striking finding in the report is that outbound travel accounted for just approximately 1% of the total trips made by Indians in the past year. Surprisingly, this trend is expected to persist until 2030. However, considering the projected 5 billion visits in 2030, this 1% translates to a substantial 50 million outbound trips.
Growth in Travel Expenditure
The report's 2019 data revealed that the top three global travel spenders were the United States, China, and Germany, with India ranking sixth. Nevertheless, the study indicates that total expenditure from overseas trips is set to increase from approximately 25% to 35%.
Indian travelers are poised to embark on 5 billion more trips by 2030, with travel and tourism spending expected to reach a staggering $410 billion. This represents a remarkable surge of over 170% from the $150 billion spent in 2019.
Increasing Household Spending
As more Indians enter the workforce, the country's household spending per capita is predicted to outpace other developing Asian economies, including Indonesia, the Philippines, and Thailand. The study suggests that around 13 million households will have an income distribution of $35,000, a significant increase from just 2 million in 2020.
Despite increased spending power, Indian travelers continue to favor domestic travel. The survey reveals that destinations such as Varanasi, Coimbatore, and Kochi are gaining popularity apart from well-known cities like Delhi and Mumbai.
Investment in Infrastructure
India has seen substantial investments in its transportation sector over the last decade, with more than $200 billion spent. The number of airports in the country has also doubled since 2014. In anticipation of the growing travel demand, Indian airlines have placed orders for over 1,000 aircraft, bringing the total number of planes to between 1,500 and 1,700 units by 2030.
Shift in India's Income Pyramid
The report highlights an expected shift in India's income pyramid, characterized by a sixfold growth in households earning $35,000 annually by 2030. Indian travelers tend to opt for multiple short trips, with 29% taking holidays lasting over 25 days in 2022, surpassing tourists from developed countries like Australia, Germany, and the United States.
Indian travelers have become more discerning and experimental in their travel choices. They seek unique, authentic, and immersive experiences, often inspired by social media platforms, where they gather new ideas and plan their trips. Jatin Khanna, CEO of Sarovar Portico Hotels & Resorts, noted that Indian travelers are now open to trying novel experiences during their travels.