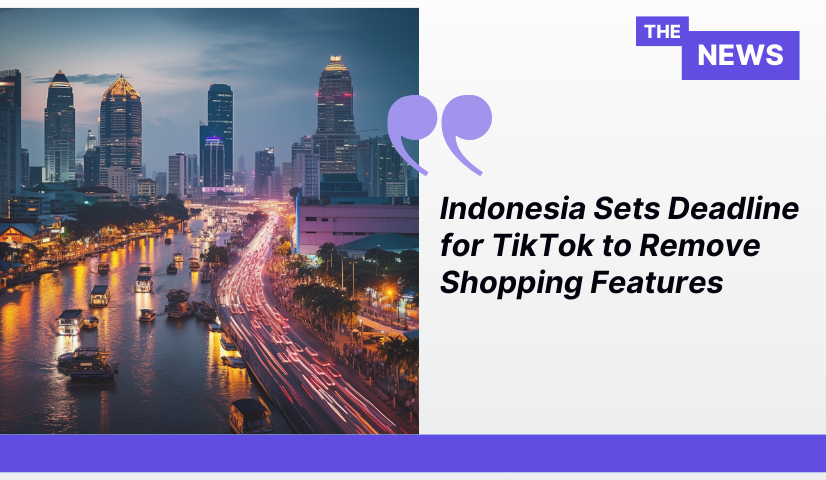 Key Takeaways
Indonesia has imposed a one-week deadline on TikTok to remove e-commerce functions from its platform. Failure to comply may lead to the app's closure in the country.
Analysts express concerns about the potential negative impact on user experience as separating e-commerce features could disrupt the impulse buying behavior that TikTok relies on.
TikTok Shop accounted for 5% of e-commerce's gross merchandise value in Indonesia, facing competition from established players like Shopee and Lazada.
Indonesia's Deadline for TikTok
Indonesia has issued an ultimatum to TikTok, giving the popular social media platform one week to eliminate e-commerce features from its app. The move comes as Indonesia implements stricter regulations on social media platforms, impacting micro, small, and medium-sized enterprises (MSMEs) and the broader economy. If TikTok fails to comply with the directive to remove shopping transactions, it could potentially face closure within the country.
Analysts have expressed concerns about the consequences of separating e-commerce functions from TikTok. Jonathan Woo, Senior Research Analyst at Phillip Securities Research, highlights the potential disruption this change may cause to user experiences, particularly considering TikTok's reliance on impulse buying behavior.
TikTok's Significance in Indonesia
Indonesia represents a crucial market for TikTok, being the largest in Southeast Asia and the second-largest globally, with 125 million users, second only to the United States. TikTok's CEO previously announced plans to invest "billions of dollars" in Southeast Asia to diversify the company's global business portfolio, especially in the face of mounting pressure from U.S. regulators.
TikTok Shop, the platform's e-commerce feature, plays a significant role in Indonesia's digital landscape. According to a June report by Momentum Works, TikTok Shop accounted for 5% of e-commerce's gross merchandise value in Indonesia. However, it faces stiff competition from established players like Shopee, Tokopedia, Lazada, and Bukalapak.
Challenges Ahead for TikTok
The separation of e-commerce features could pose substantial challenges for TikTok Shop, which relies on seamless integration with the social media platform. Sachin Mittal, Head of Telecom, Media, and Technology Research at DBS Bank, emphasizes that even if TikTok secures a separate license to operate, functioning as a standalone app might still prove challenging.
Responding to Indonesia's directive, TikTok expressed its deep concern about the potential impact on sellers and affiliate creators who use TikTok Shop. The company pledged to respect local laws and regulations while seeking a constructive path forward.
Implications for E-Commerce Market
Indonesia's new regulations also require e-commerce platforms to implement a minimum price of $100 for certain items purchased directly from overseas, with all products complying with local standards. While these changes are expected to affect TikTok Shop significantly, established e-commerce players like Shopee and GoTo may benefit from the regulation.
E-commerce marketplaces play a substantial role in Indonesia's digital payment landscape, with the country recently witnessing record-high digital transaction values and volumes. The value of digital transactions reached 160 trillion Indonesian rupiah ($10.3 billion) in July, marking a significant increase compared to the previous year.
In conclusion, TikTok faces a pivotal moment in Indonesia, where compliance with new regulations will determine its continued presence in the market and its ability to navigate the evolving e-commerce landscape.