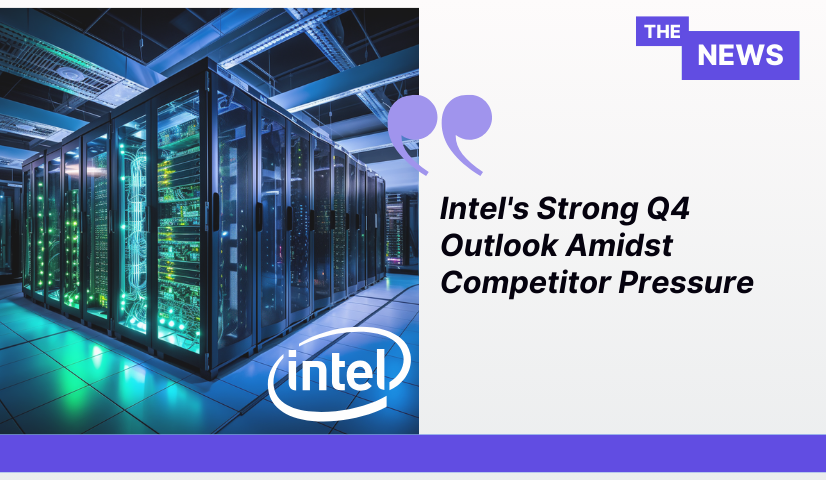 Key Takeaways
Intel predicts Q4 revenue and margins exceeding expectations, overcoming Nvidia's competition in the data center chip market.
A revived PC market and stable server chip business contribute to Intel's optimism, alongside a growing clientele for its chip manufacturing services.
Intel's Positive Outlook for Q4
On October 26, Intel announced its Q4 projections, surpassing Wall Street estimates. The tech giant, headquartered in Santa Clara, California, anticipates higher revenue and better margins for the upcoming quarter. This announcement comes as Intel faces intense rivalry from Nvidia in the data center chip sector.
Intel's positive outlook is fueled by multiple factors, including a resurgence in personal computer (PC) sales, the stabilization of its server chip business, and a growing customer base seeking its chip manufacturing services. These developments have contributed to faster-than-expected growth in gross margins.
Competitive Pressure from Nvidia
While Intel is optimistic about its Q4 prospects, it is important to acknowledge the fierce competition it faces from Nvidia, particularly in the data center chip market. Nvidia has been a formidable player in this arena, intensifying the battle for market share. However, Intel's Q4 performance reflects its ability to withstand this competitive pressure.
Following the announcement of its positive Q4 projections, Intel's stock witnessed an 8% increase after the closing bell. This surge indicates a vote of confidence from investors in the company's growth potential and its capacity to navigate the competitive landscape.
Intel is also making strides in diversifying its customer base. The company has successfully secured contracts with three customers for its chip manufacturing business. CEO Pat Gelsinger expressed confidence in closing a deal with a fourth customer by year-end, demonstrating a growing interest in Intel's manufacturing services.
PC Market Rebound and Strong Revenue Projections
The PC market, which had experienced a slump earlier this year, is showing signs of revival. In the third quarter, the decline in global PC shipments narrowed to 7%. Analysts at research firm Canalys anticipate further growth in the upcoming holiday season, marking a positive trend for Intel's core PC business.
For the current quarter, Intel forecasts adjusted revenue ranging from $14.6 billion to $15.6 billion, surpassing the estimate of $14.35 billion according to data from LSEG. Additionally, the company expects adjusted earnings per share in the fourth quarter to reach approximately 44 cents, outperforming analysts' estimates of 32 cents.
Intel is expanding its manufacturing capabilities with a fourth foundry customer for its advanced "18A" manufacturing process, scheduled to begin production in late 2024. This initiative is part of Intel's Foundry Services business, which aims to meet the demands of various customers.
Intel's commitment to future growth is underscored by its ongoing investments in advanced packaging technology. The company is currently in discussions with six new customers for its advanced packaging business, signaling potential growth opportunities.
Despite its competitive challenges, Intel is determined to maintain its leadership in the tech industry. As it faces increasing pressure from Nvidia, Intel's ability to secure new customers and adapt to the evolving technology landscape will be crucial for its continued success.