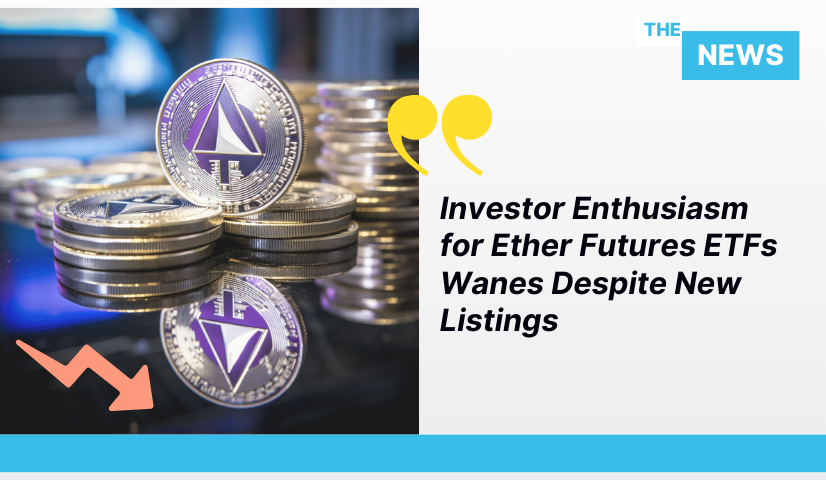 Key Takeaways
Six new ether futures ETFs, launched by various asset managers, have experienced losses of 5% or more since their debut.
The overall outlook for cryptocurrencies, along with a preference for spot ETFs, is affecting investor appetite for futures-based products.
Ethereum Futures ETFs Face Lackluster Reception
Investor interest in Ethereum (ETH) futures exchange-traded funds (ETFs) has been lackluster, despite the recent surge in new listings. Six new ether futures funds, introduced by Bitwise Asset Management, ProShares, and VanEck on October 2, have struggled to gain traction. As of the latest closing, all six funds have posted losses of 5% or more since their debut, raising concerns about the appetite for such products in the cryptocurrency market.
Broader Crypto Market Challenges
The lackluster performance of these ether futures ETFs is partly attributed to the broader outlook for the cryptocurrency market. According to Ric Edelman, the founder of the Digital Assets Council of Financial Professionals, the initial success of the ProShares Bitcoin Strategy ETF (BITO) was driven by its novelty and the bullish performance of Bitcoin at the time. Edelman stated, "Frankly, bitcoin was doing fabulous at the time in 2021, and a lot of folks really didn't understand exactly what that fund was, being bitcoin futures. You fast-forward a couple of years, people have learned a lot."
When the BITO ETF, a futures product based on Bitcoin, launched in late 2021, it attracted approximately $1 billion in inflows within its first two trading days. In contrast, the six ether futures funds that debuted in October collectively attracted just $1.92 million on their first day of trading, highlighting the contrasting investor sentiment. Cryptocurrencies underlying these futures-based products are still well below their all-time highs reached in November 2021. Bitcoin is currently trading near $27,000, which is significantly lower than its peak of over $67,000, while Ethereum is down more than 60% from its high and currently valued near $1,500.
Futures ETFs vs. Spot ETFs
Investors may be hesitant to embrace futures-based ETFs, as they are more accustomed to spot ETFs that track the current market price of the underlying asset rather than futures contracts. Currently, regulators are evaluating the approval of cryptocurrency spot ETFs, which would trade based on the real-time market prices of the underlying digital assets. The Securities and Exchange Commission (SEC) has previously prevented spot Bitcoin ETFs from entering the market, but a federal appeals court ruling in August overturned an obstacle to Grayscale's conversion of its Grayscale Bitcoin Trust (GBTC) into an ETF. The SEC has until Friday to decide whether to appeal this decision.
Concerns About Consumer Safety
Ric Edelman emphasized that the absence of a spot Bitcoin ETF does not deter people from buying cryptocurrencies but forces them to opt for more exotic and costlier products with less liquidity and higher risk. Edelman believes that ensuring consumer safety should be a top priority in the evolving cryptocurrency ETF landscape.