Key Points

IVS Crypto 2023 KYOTO: Premier global Web3 event with 600+ speakers, 100+ activities, and 10,000+ attendees. Explore Web3's potential, connect with industry leaders. CRYPTO STAGE: Next-gen vision in music, gaming, IP, revitalization. Witness innovations, discover Japan's business opportunities. Beyond the conference, enjoy activities at Nijo Castle, Yasaka Shrine. After Party with Grammy winner Kimbra.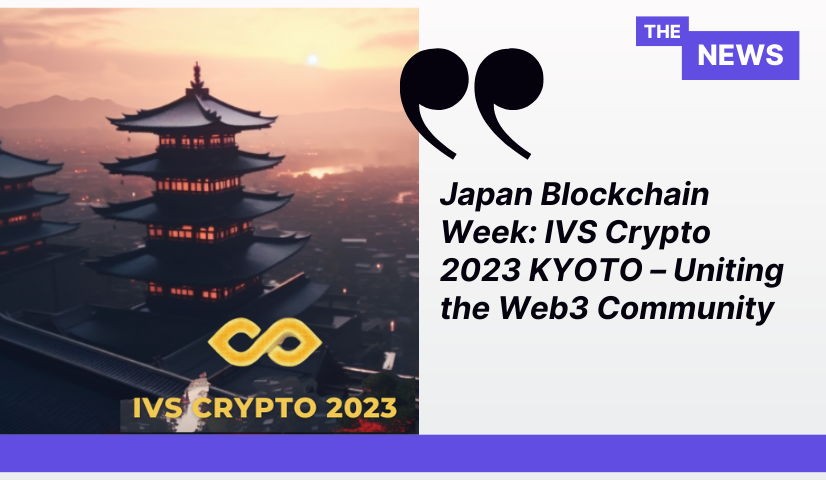 Join us for the highly anticipated IVS Crypto 2023 KYOTO, a flagship event of Japan Blockchain Week that brings together global Web3 entrepreneurs, investors, developers, media professionals, government agencies, and Web3 enthusiasts. This year, we are proud to host the event in Kyoto, renowned for its rich heritage of traditional Japanese craftsmanship.
IVS is thrilled to present "IVS2023 KYOTO / IVS Crypto 2023 KYOTO," a conference that will take place at Kyoto's premier international exhibition venues, Miyakomesse and Rohm Theater. With over 600 distinguished speakers, 100+ additional activities, and an expected attendance of more than 10,000 participants, this event promises to be the highlight of the blockchain industry.
Among the esteemed speakers, we have luminaries such as Akira Hisazaki, the visionary behind Japan's web3 whitepaper and Secretary General of the web3PT at the Liberal Democratic Party; Sandy Peng, Co-founder of Scroll; Jeremy Allaire, the esteemed CEO of Circle, the issuer of the stablecoin USDC; Junichiro Kagami, Head of CBDC Policy at the Bank of Japan; Joi Ito, Co-founder of Digital Garage and former Director of the MIT Media Lab; Emi Yoshikawa, Vice President of Global Strategy and Operations at Ripple; and Sohta Watanabe, CEO of Astar Network.
As the largest cryptocurrency conference in Japan, IVS Crypto places a spotlight on the transformative power of Web3 technology across diverse industries.
IVS Crypto: CRYPTO STAGE – Where Gaming Meets Web3.0
At the heart of NEXT CITY, the "CRYPTO STAGE" will be the focal point for unveiling Japan's future vision and the imperative need for Web3.0. This stage will host essential conferences that showcase the potential of Web3 technology in music, gaming, intellectual property (IP), and local revitalization. Participants will gain insights from government representatives, industry leaders, and large enterprises, providing a unique opportunity to explore Japan's future and the significance of startups in this dynamic ecosystem.
An unmissable session will be "Let's Embark on a Journey to Web3.0! Japanese Intellectual Property (IP) Advancing to Web3," where industry leaders like Daisuke Iwase, CEO of Animoca Brands Japan; Kazuki Ikeda, Investment Manager at Bandai Namco Entertainment; Kotaro Ozawa, CEO of Crypto Games; and Ryo Manzoku, CTO of double jump.tokyo, will delve into the business opportunities presented by Web3, leveraging Japan's globally beloved soft power from a professional standpoint.
IVS Crypto: WEB3 STAGE – The Epicenter of Web3 Innovation
The WEB3 STAGE encapsulates the passion and ingenuity of IVS Crypto, showcasing leading global Web3 technologies and impactful case studies. This stage will host the first-ever AI and Web3-themed Hackathon, the "AI+Crypto Hackathon," with a whopping $15,000 prize pool. Moreover, the captivating "COLORS Web3 Pitch" and other engaging content will provide a platform to meet and interact with top-notch Web3 startups from around the globe.
The WEB3 STAGE will kick off with a sensational opening event featuring the virtual idol group "CLONE GIRLS" and their groundbreaking CloneX avatars. Their creative work and AI-powered creations have already captivated audiences on the official RTFKT creator website. Witness the electrifying performance of this highly anticipated virtual idol group as they set the tone for the WEB3 STAGE opening.
For detailed information and ticket purchases, please visit: https://www.ivs.events/crypto