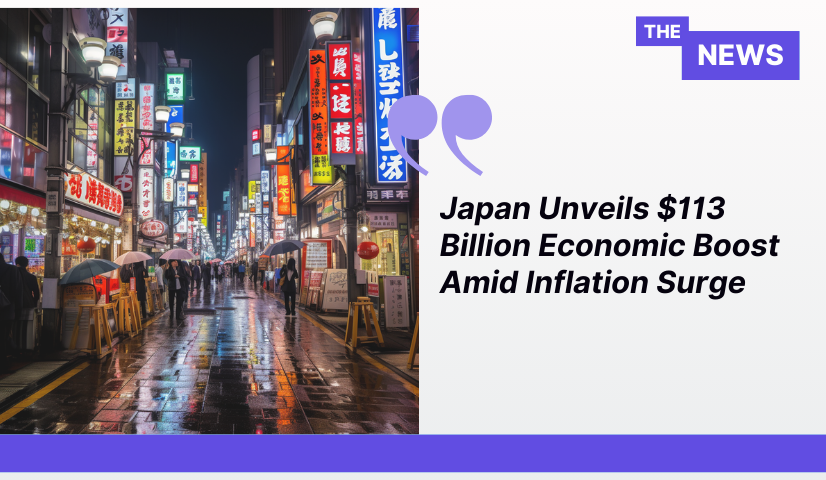 Key Takeaways

 Japanese government to allocate over 17 trillion yen ($113 billion) for economic relief amidst persistent inflation.
Package includes tax cuts, subsidies to tackle rising living costs, funded by a 13.1 trillion yen supplementary budget.
Prime Minister Kishida Unveils Ambitious Economic Relief Plan
Japanese Prime Minister Fumio Kishida declared on Thursday a robust economic recovery strategy, earmarking a staggering 17 trillion yen ($113 billion) to counter the adverse effects of escalating inflation. This comprehensive package will encompass diverse measures, including tax reductions, aiming to alleviate the financial strain on citizens grappling with soaring living costs.
Inclusive Relief Measures to Mitigate Inflation Impact
To facilitate this substantial financial injection, Prime Minister Kishida announced the formulation of a supplementary budget for the ongoing fiscal year, totaling 13.1 trillion yen.
Reports from Reuters disclosed on Wednesday shed light on the multifaceted approach Japan intends to adopt. The relief package is poised to feature temporary reductions in income and residential taxes, strategically designed to ease the burden on households. Additionally, subsidies targeting gasoline and utility bills aim to directly address the heightened cost of living, which has persisted above the central bank's 2% inflation target for over a year.
Inflation Challenges and Public Opinion
Rising inflation, fueled by the surge in raw material costs, has cast a shadow over Japan's economic recovery from the lingering impact of the COVID-19 pandemic. This sustained inflationary pressure has adversely affected consumption patterns, contributing to Prime Minister Kishida's declining approval ratings. The public sentiment attributes the rising cost of living as a significant factor influencing these ratings, compelling the government to take decisive steps to mitigate the impact on households.
Government's Commitment to Household Relief
Seeing the slow pace of wage increases in offsetting the rising prices, Prime Minister Kishida emphasized the government's commitment to alleviating the economic strain on households. One notable approach is the return of a portion of the anticipated increase in tax revenues generated by the nation's solid economic growth. This proactive measure seeks to bridge the gap between income and living costs, fostering economic stability and resilience.