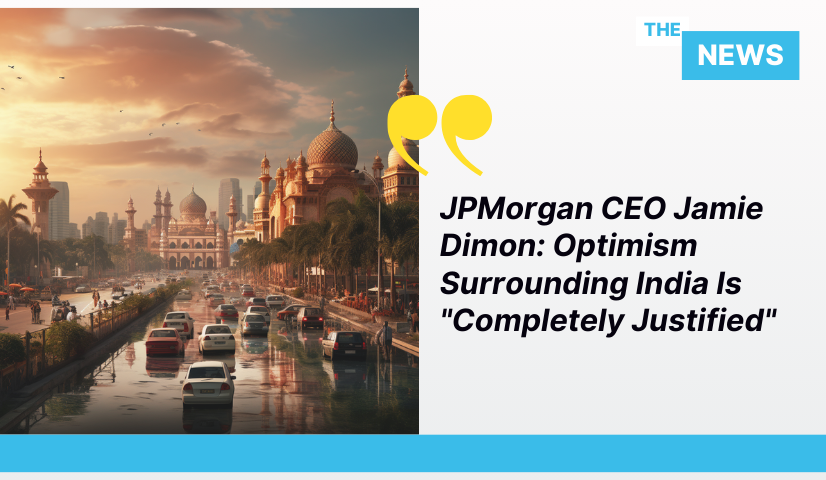 Key Takeaways
JPMorgan CEO Jamie Dimon expressed optimism about India's economic prospects at the India Investor Summit, highlighting the country's growth and investment opportunities.
India's prominence on the global stage has increased, driven by diversification away from China by Western countries and favorable policies initiated by Prime Minister Narendra Modi.
Jamie Dimon's Optimistic Outlook
JPMorgan Chase Chairman and CEO Jamie Dimon struck a bullish tone at the India Investor Summit, expressing confidence in India's current optimism. Dimon noted the significant growth of the summit over the years, with 700 investors worldwide and 100 presenting companies, indicating a strong interest in India's economic prospects.
India's Rising Global Importance and Modi's Policies
India's increasing prominence on the global economic stage has been fueled by a desire among Western countries to diversify their investments and supply chains away from China. The NIFTY 50, India's benchmark stock market index, has seen remarkable growth, surging over 15% in the past year.
Jamie Dimon commended Indian Prime Minister Narendra Modi for his efforts to enhance the country's business environment. He highlighted policies aimed at simplifying taxes, facilitating easier access to bank accounts for Indian citizens, and encouraging foreign investment. These reforms have contributed to India's attractiveness as an investment destination.
Bright Economic Prospects of India
India's population recently surpassed 1.4 billion, making it the world's most populous country. Forecasts by S&P Global, Morgan Stanley, and Goldman Sachs predict that India will become the world's third-largest economy by 2030 and possibly the second-largest by 2075. This economic trajectory has captured the attention of global leaders and businesses.
Dimon emphasized that India's appeal goes beyond concerns about China, stating that India offers unique opportunities that would attract attention regardless of the China factor. The country's vast market, skilled workforce, and ongoing reforms position it as a key player in the global economy.
Jamie Dimon's positive assessment of India's economic potential underscores the nation's growing importance in the global landscape as it continues to attract investments and attention from around the world.