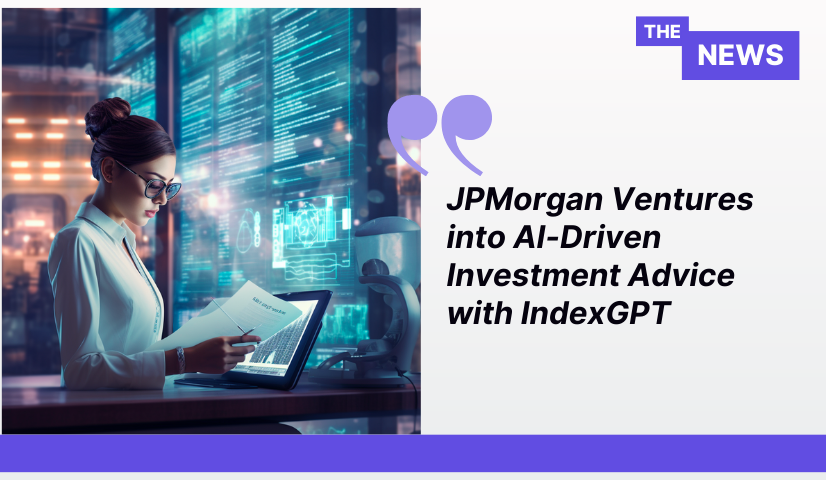 Key Takeaways

JPMorgan Chase seeks to trademark IndexGPT, an AI-powered service for personalized investment selections.
The move indicates JPMorgan's potential launch of a GPT-like product directly for customers, potentially disrupting the financial advisory landscape.
JPMorgan Explores AI-Powered Investment Advice with IndexGPT
In a notable move at the intersection of finance and technology, JPMorgan Chase is in the process of developing a cutting-edge software service known as IndexGPT. This AI-powered solution, inspired by the success of OpenAI's ChatGPT technology, is aimed at assisting customers in making informed investment decisions. The financial giant recently applied to trademark the product under the name IndexGPT, signifying its commitment to leveraging artificial intelligence for a new generation of financial services.
Embracing AI in Investment Selections
IndexGPT is designed to harness the capabilities of cloud computing software and artificial intelligence to analyze and tailor investment selections based on customer needs. Building on the remarkable viral success of OpenAI's ChatGPT, which utilizes sophisticated language models to craft human-like responses, JPMorgan aims to bring a disruptive advancement to the world of finance. The strategic application of AI holds the promise of revolutionizing investment advisory services by offering personalized and data-driven insights to customers.
Potential Industry Disruption and Competition
While the implementation of AI technologies in the financial sector is not entirely new, JPMorgan's initiative with IndexGPT could be a pioneering move. Traditionally, AI-driven financial tools like ChatGPT have been tested for internal use by institutions like Goldman Sachs and Morgan Stanley. However, JPMorgan's intention to possibly release a GPT-like product directly to customers marks a potential shift in the industry landscape.
Trademark attorney Josh Gerben suggests that JPMorgan's trademark filing indicates a concrete intention to introduce IndexGPT to the market. The bank's commitment is evident in the filing's specifics, which mention the use of AI powered by "Generative Pre-trained Transformer (GPT) models." If approved, the bank would need to launch the product within three years to secure the trademark, a process Gerben explains can take nearly a year due to the US Patent and Trademark Office's backlog.
Redefining Financial Advisory Services
The development of AI-driven tools like IndexGPT raises questions about the evolving role of human financial advisors. While technological advancements have led to concerns about displacement, the widespread adoption of roboadvisor services by firms like Morgan Stanley and Bank of America's Merrill hasn't hindered human advisors from maintaining their influence in the market. This suggests that while AI tools provide data-driven insights, the human touch remains valued by investors seeking personalized financial guidance.
JPMorgan's Commitment to AI
Executives at JPMorgan have been vocal about their pursuit of AI integration across their operations. At the company's annual investor conference, global tech chief Lori Beer emphasized the power of AI tools like GPT models. JPMorgan's investment in data scientists and machine-learning engineers—over 1,500 to date—underlines their dedication to unlocking the potential of AI-driven financial solutions.
In a rapidly evolving financial landscape, JPMorgan's exploration of AI-powered investment advice through IndexGPT represents a bold step toward combining technological innovation with personalized financial strategies.