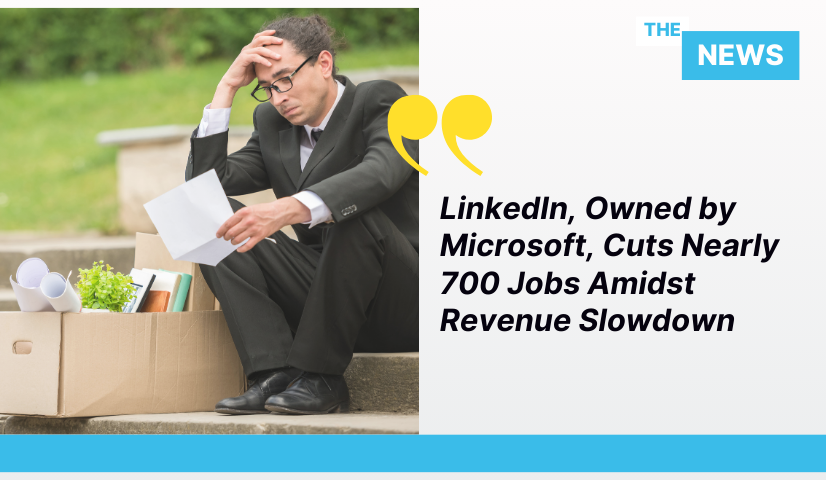 Key Takeaways
LinkedIn, a subsidiary of Microsoft, has announced the reduction of almost 700 jobs, with the majority coming from the engineering department.
The move is in response to eight consecutive quarters of slowed year-over-year revenue growth, highlighting the need for enhanced efficiency and streamlined organizational structures.
LinkedIn's Workforce Reduction
LinkedIn, the professional social network owned by tech giant Microsoft, has revealed plans to cut nearly 700 jobs. The reduction primarily affects the engineering organization but also extends to the finance and human resources departments. This announcement underscores the challenges LinkedIn has faced with its revenue growth, which has experienced a slowdown over the past eight quarters.
In the second quarter, LinkedIn reported a modest 5% growth in revenue. Although the platform has witnessed accelerated membership growth for the past two years, this did not translate into substantial revenue increases. This slowdown in revenue growth prompted the strategic decision to streamline the workforce.
Adapting for Future Success
LinkedIn's leadership expressed the need to adapt to changing market conditions and evolving business priorities in the coming fiscal year. Mohak Shroff and Tomer Cohen, LinkedIn executives, detailed their approach in a memo. They emphasized the importance of improved agility, clear ownership, enhanced efficiency, and greater transparency. These organizational changes aim to focus on key initiatives that can significantly impact the achievement of business goals.
Microsoft, LinkedIn's parent company, previously announced employee cuts in January, with 10,000 jobs on the line, and additional reductions followed in July. This streamlining of the workforce is in line with Microsoft's broader strategy to control costs, given the overall slowdown in revenue growth across the company.
It's important to note that these recent layoffs are in addition to the 10,000 job cuts announced in January, a spokesperson confirmed.
While downsizing in some areas, LinkedIn is also preparing to increase its workforce in India, as indicated by a source with knowledge of the matter. This strategic move reflects the company's commitment to adapting its organizational structures and decision-making processes while continuing to invest in strategic priorities for the future. LinkedIn aims to deliver continued value to its members and customers, even as it optimizes its operations.
In a blog post, LinkedIn expressed its commitment to providing support to the impacted employees during this transition, ensuring that they are treated with care and respect. This demonstrates a responsible approach to workforce management during a period of transformation.