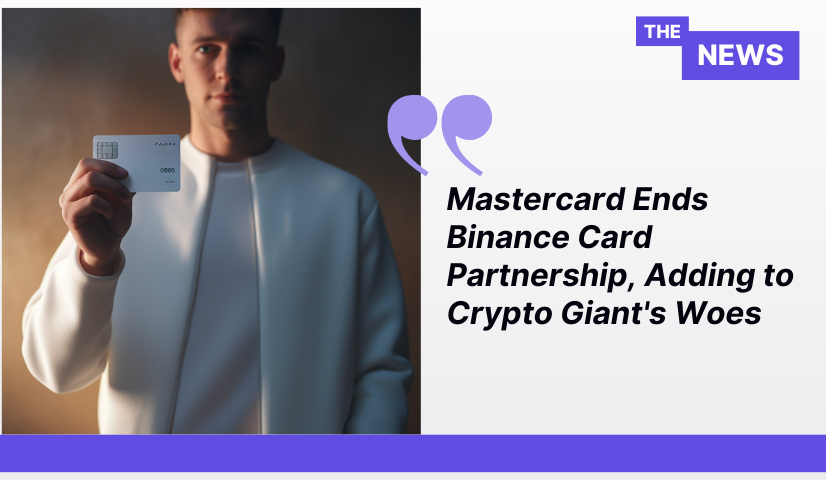 Key Takeaways

Mastercard announces the termination of its partnership with Binance, leading to the discontinuation of Binance-branded cards in Latin America and the Middle East.

Visa follows suit, ending its card tie-up with Binance in Europe due to concerns over regulatory actions and compliance controls.

Traditional financial institutions' cautious approach highlights the challenges and skepticism the crypto industry faces from the financial services sector.
Mastercard's Move Signals Concerns Over Regulatory Scrutiny
In a significant development, Mastercard has decided to sever its partnership with embattled cryptocurrency exchange Binance, resulting in the cessation of Binance-branded cards in Latin America and the Middle East. This move highlights the growing apprehension among traditional financial institutions about collaborating with Binance amidst escalating regulatory scrutiny and broader concerns about financial compliance within the cryptocurrency industry.
The termination of the Binance-Mastercard partnership signifies the hesitance of established financial players to engage with Binance as it faces intense regulatory challenges. The company, which has been under the radar of regulatory bodies such as the U.S. Securities and Exchange Commission (SEC) and the Commodity Futures Trading Commission (CFTC), has been accused of commingling customer funds with its own assets. Despite Binance's denial of these allegations, the move by Mastercard echoes a broader trend of caution surrounding crypto dealings.
Impact on Card Programs and Future Options
Binance had collaborated with Mastercard to offer crypto enthusiasts in various regions the convenience of using Binance-branded cards for daily expenses. However, only a small fraction of Binance users, less than 1% in the affected markets, were utilizing these cards. Binance revealed that these users have until September 21, 2023, to use their existing cards, after which the card program will be discontinued. It's important to note that this decision doesn't affect Binance accounts globally.
Mastercard confirmed that the four pilot Binance co-branded Mastercard card programs in Argentina, Brazil, Colombia, and Bahrain will be phased out by September 22, allowing cardholders a transition period to manage their holdings. Visa, on the other hand, has already ceased issuing new co-branded cards with Binance in Europe since July.
Visa's Withdrawal Reflects Broader Industry Caution
Visa's decision to distance itself from Binance and end their card tie-up in Europe underscores the hesitancy within the financial services industry regarding crypto-related partnerships. The concerns raised by regulatory actions, inquiries from partners, and apprehensions over anti-money laundering, sanctions, and compliance controls have contributed to Visa's move.
While Mastercard and Visa have taken these steps, the broader commitment to enabling and securing digital assets remains unaffected. Both companies have previously shown interest in integrating crypto services into their offerings, indicating that their decisions regarding Binance are specific to the current regulatory climate.
The termination of the Mastercard and Visa partnerships with Binance is a significant development that reflects the increasing scrutiny and skepticism faced by the cryptocurrency industry. The decisions underline the challenges of establishing stable collaborations between traditional financial institutions and crypto exchanges under the current regulatory landscape. As Binance navigates these challenges, the wider crypto industry continues to grapple with the need for robust compliance frameworks to gain the trust and acceptance of established financial players.