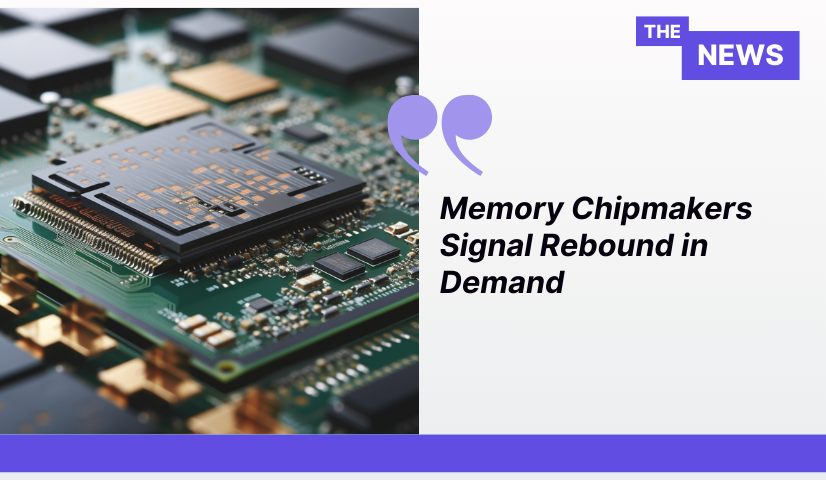 Key Takeaways

Samsung's third-quarter operating profit increased significantly, indicating a possible rebound in memory chip demand.
SK Hynix reported a return to profit in the dynamic random-access memory (DRAM) business during the third quarter after earlier losses.
Strong demand for advanced chips used in generative AI is helping bolster the memory chip industry.
Memory Chipmakers Signal Demand Recovery
Recent earnings reports from two of the world's largest memory chip manufacturers, Samsung and SK Hynix, suggest that the prolonged period of weak demand for memory chips may finally be coming to an end. Both South Korean companies experienced fluctuations in their operating profits in previous quarters, but the latest results indicate positive trends.
One of the significant drivers behind the recovery in memory chip prices is the industry-wide supply reduction and the consequent decrease in inventories. James Lim, senior research analyst at Dalton Investments, explained that reduced inventories, especially in personal computers and mobile devices, have played a crucial role in boosting memory chip prices. Lower prices tend to stimulate restocking and increase memory content per device.
In its earnings report, Samsung stated that it received numerous purchase inquiries as industry awareness grew about the memory chip industry reaching a potential bottom. This followed a period during which chipmakers adjusted production to reduce excess inventories accumulated during the pandemic.
Impact of Excess Inventory and Inflation
The memory chip industry faced challenges due to the stockpiling of memory chips to meet the surge in electronics demand during the pandemic. However, as inflation led to reduced consumer spending and fewer purchases of electronic devices, the excess inventory caused a decline in memory chip demand and prices.
Kazunori Ito, director of research at Morningstar, affirmed that recent earnings calls have confirmed the memory chip industry's expected recovery. He noted that dynamic random-access memory (DRAM) average selling prices (ASPs) increased sequentially, with Samsung experiencing a price increase for the first time in eight quarters.
Outlook and Strong Demand for AI Chips
The world's largest contract chipmaker, Taiwan Semiconductor Manufacturing Company (TSMC), exceeded analysts' expectations and suggested that the chip industry's worst days might be over. TSMC is critical in producing advanced processors for companies like Apple and Nvidia, driving optimism about the chip sector's future.
Similarly, U.S.-based Qualcomm presented a robust forecast for the current quarter, indicating signs of a chip recovery. High-end Android devices and various lower-end phones rely on Qualcomm's processors.
Inventories, especially NAND flash memory, remain high despite improvements in the memory chip sector. NAND, an essential memory chip, works in conjunction with DRAM in various devices such as PCs, servers, and smartphones. The excess inventory will likely influence memory suppliers to maintain lower capacity utilization and exercise caution in increasing production capacity, favoring memory chip prices due to limited supply.
TrendForce anticipates continued production scaling back in 2024, particularly in the financially struggling NAND Flash sector. The research firm also projects increased demand for DRAM and NAND Flash in 2024, driven by factors like the generative AI boom.
Looking ahead, Samsung expects a fourth-quarter pickup in demand, driven by year-end promotions, new product launches, and strong demand for generative AI. The AI sector's growing need for high-performance chips and memory contributes to the positive outlook for memory chip demand.