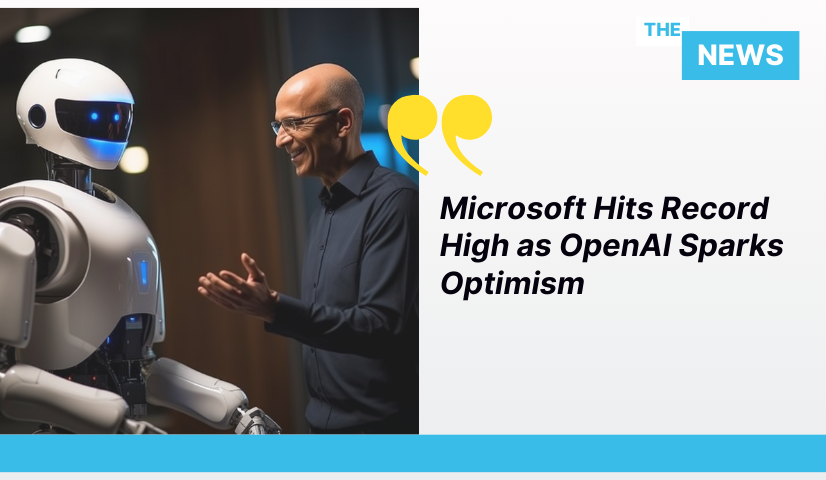 Key Takeaways

Microsoft achieved a record high stock price of $360.53, driven by optimism around OpenAI's recent announcements.
OpenAI unveiled a series of updates, including price reductions and plans to enable custom versions of the ChatGPT chatbot, emphasizing Microsoft's role in supporting developers through its Azure cloud infrastructure.
Microsoft's Record-Breaking Stock Performance
In a remarkable trading session, Microsoft's stock surged to an all-time high of $360.53, showcasing a daily increase of 1.12%. This notable achievement followed fresh optimism generated by updates from a significant partner in artificial intelligence (AI). The software giant now boasts a market value of approximately $2.68 trillion.
The broader U.S. stock market indices also recorded gains for the day, with the S&P 500 marking its seventh consecutive rise, while Microsoft achieved its eighth. Such an impressive streak hadn't been observed since January 2021.
The catalyst for this surge in Microsoft's stock price can be traced back to OpenAI's recent announcements, unveiled at an event held in San Francisco. OpenAI, a strategic AI partner of Microsoft, presented a range of updates, including price reductions and plans to enable individuals to create custom versions of the ChatGPT chatbot. Notably, Microsoft CEO Satya Nadella graced the event and underscored the advantage for developers using OpenAI's tools—quick access to the market by deploying their software on Microsoft's Azure cloud infrastructure.
Microsoft has significantly invested in OpenAI, estimated at $13 billion, securing an exclusive license for OpenAI's GPT-4 large language model. This model has the remarkable ability to generate human-like prose based on minimal input. Recent initiatives by Microsoft, such as introducing an AI add-on for its Office productivity app subscriptions and incorporating an assistant in Windows 11, rely on OpenAI models.
Positive Outlook for Microsoft
Industry analysts have expressed positive sentiments regarding Microsoft's performance and the alignment with OpenAI. UBS analysts, led by Karl Keirstead, noted that OpenAI's proactive approach to attracting software developers to build applications using ChatGPT/GPT-4, accompanied by price reductions and enhanced model performance, can lead to increased consumption of OpenAI's services on Azure. Consequently, this may yield modest benefits for Microsoft. UBS analysts have maintained a buy rating for Microsoft stock.
Equally optimistic, Oppenheimer analysts, who also have a buy-equivalent rating, emphasized that OpenAI's pricing updates confirm its status as a category leader. Furthermore, they highlighted the mutually synergistic relationship between OpenAI's success and Microsoft. Notably, Microsoft officially referred to OpenAI as its "strategic partner" in a regulatory filing in October, underlining the significance of their partnership.
This surge in Microsoft's stock price underscores the tech giant's and OpenAI's collaborative potential in advancing AI technologies and offerings.
Datadog's Indication of Changing Trends
In a related development, Datadog, a cloud monitoring software provider, indicated a shift in client behavior. According to Datadog, its clients are beginning to reduce their focus on cost-saving projects. Datadog's capabilities include monitoring infrastructure in Azure and other major public cloud platforms, including Amazon Web Services (AWS). AWS, on the other hand, saw a 2.13% increase in its stock price. Despite this rise, it has yet to surpass its previous record closing high, set in July 2021.