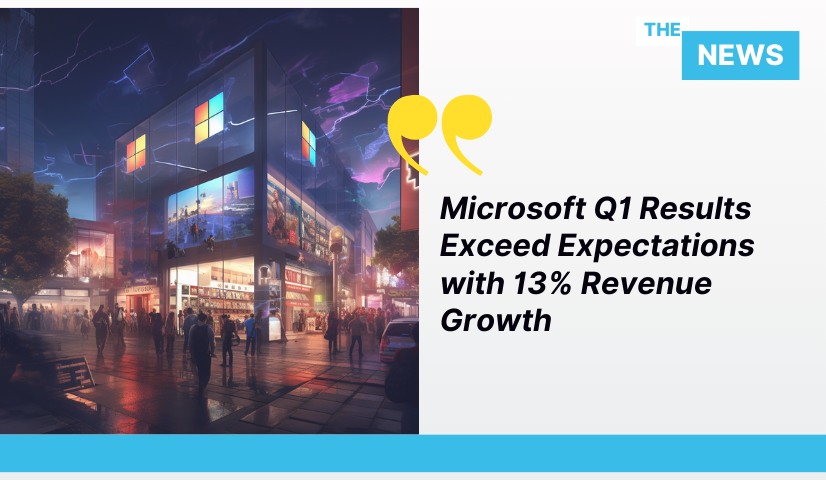 Key Takeaways
Microsoft's Q1 earnings beat expectations with earnings per share of $2.99 and revenue of $56.52 billion.
The Intelligent Cloud segment, including Azure, contributed significantly to the company's growth, reporting a 19% increase in revenue.
Intelligent Cloud Segment Shines
Microsoft's first-quarter results exceeded expectations, leading to a surge in the company's shares, which rose as much as 6% in extended trading. The firm's financial performance was highlighted by earnings per share of $2.99, surpassing the expected $2.65 per share, and revenue of $56.52 billion, beating the expected $54.50 billion.
One of the key contributors to Microsoft's impressive Q1 performance was its Intelligent Cloud segment, which generated $24.26 billion in revenue. This marked a substantial 19% increase in revenue and exceeded the analyst consensus of $23.49 billion. The segment includes various services, such as the Azure public cloud, SQL Server, Windows Server, Visual Studio, Nuance, GitHub, and enterprise services.
Azure's Remarkable Growth
A significant highlight within the Intelligent Cloud segment was the substantial growth of Azure, Microsoft's cloud computing platform. Azure reported a remarkable 29% revenue growth during the quarter, surpassing the consensus of 26% growth, according to CNBC and StreetAccount. Although Microsoft does not disclose specific revenue figures for Azure in dollars, at constant currency, Azure's revenue increased by 28%, accelerating from 27% growth in the previous fiscal quarter.
Artificial intelligence (AI) played a pivotal role in driving Azure's growth, contributing around 3 percentage points to the quarter's Azure growth. This growth was even more pronounced than the 2 points of Azure growth attributed to AI three months ago. Microsoft is witnessing increased adoption of generative AI tools in the cloud, enhanced with software from Microsoft-backed startup OpenAI. The Azure OpenAI Service saw a surge in customers, with its user base increasing from 11,000 customers in July to 18,000 customers. This growth was partly facilitated by higher graphics processing unit (GPU) capacity in Azure.
Continued Innovation and Expansion
Microsoft remains focused on helping customers maximize the value of the Microsoft Cloud while driving operational efficiency. The company is continually expanding its portfolio of AI tools and services in response to the evolving needs of its clients. Moreover, the Teams communication app reported substantial growth, with over 320 million monthly active users, an increase from 300 million six months ago.
While Microsoft has introduced new AI tools and services, such as the Microsoft 365 Copilot AI add-on for existing productivity software subscriptions, the company's management remains cautious regarding the pace of revenue growth. Microsoft anticipates that the related revenue from these new services will grow gradually over time.
Stabilizing PC Market and Cost Management
Microsoft noted a 4% growth in sales of Windows operating system licenses to device makers, marking the end of a streak of five consecutive quarters of year-over-year declines. The PC market has shown signs of stabilization, with a notable decrease in the rate of decline. To further bolster its financial performance, Microsoft continued to control its growth in research and development and sales and marketing costs. Operating expenses increased by 1.3%, representing the slowest rate of increase since 2016.
Microsoft recently completed its $68.7 billion acquisition of video game publisher Activision Blizzard. While this acquisition did not factor into Microsoft's Q1 results, it is expected to have a partial impact on earnings in the following quarter.
Despite the after-hours fluctuations, Microsoft stock has shown a solid performance this year, gaining 38%, while the S&P 500 index increased by approximately 11% during the same period.