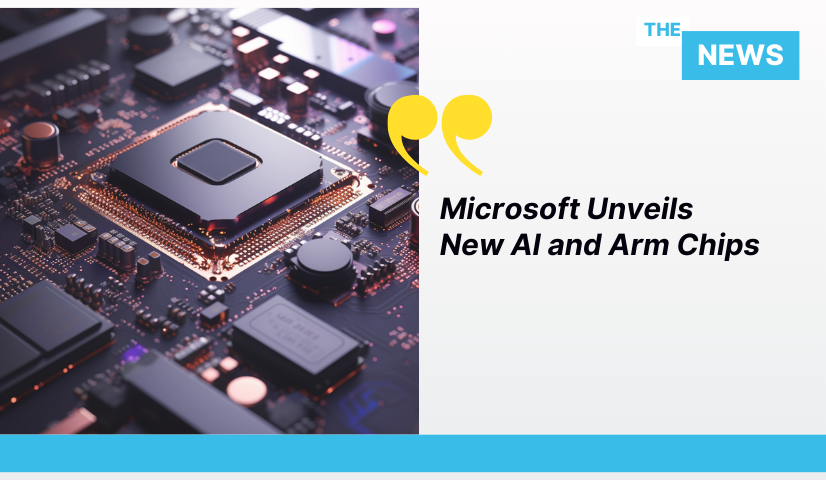 Key Takeaways

Microsoft introduced Maia 100 AI and Cobalt 100 Arm chips at the Ignite conference.
The chips aim to enhance Azure's cloud computing and AI processing capabilities.
Microsoft's Entry into Chip Manufacturing
At its Ignite conference in Seattle, Microsoft revealed two groundbreaking chips: the Maia 100 AI chip, which rivals Nvidia's AI GPUs, and the Cobalt 100 Arm chip, targeting general computing tasks and competing with Intel processors. These introductions mark Microsoft's significant foray into chip manufacturing, a trend seen among other cash-rich tech giants.
The Cobalt chips, intended for Microsoft's Azure cloud, will be available in 2024, as confirmed by Rani Borkar, a corporate vice president at Microsoft. However, a release timeline for the Maia 100 AI chip remains unspecified. This move aligns with the industry trend where tech companies, including Google and Amazon, have been developing specialized chips for their cloud infrastructure and AI applications.
AI Chip Development and Applications
Microsoft's Maia 100 AI chip is being tested for suitability with Bing's AI chatbot, GitHub's Copilot coding assistant, and the GPT-3.5-Turbo model from OpenAI, which powers ChatGPT. This development highlights Microsoft's focus on enhancing its services' AI and machine learning capabilities, responding to the growing demand for GPUs driven by the popularity of AI chatbots.
Cloud providers like Microsoft offer specialized AI chips to meet the high demand during GPU shortages. Unlike companies like Nvidia or AMD, these cloud giants, including Microsoft, do not plan to sell servers containing their chips, focusing instead on integrating them within their cloud services.
Hardware Innovations: Sidekicks
In addition to the Maia chip, Microsoft has developed custom liquid-cooled hardware called Sidekicks, designed to complement the Maia servers. This innovation addresses the challenge of optimizing data center space and cooling, which is a common issue with servers containing GPUs.
Performance and Adoption Prospects
Microsoft's Cobalt processors might see faster adoption based on Amazon's experience with its Graviton chips. Tests on Microsoft Teams app and Azure SQL Database service have shown a 40% performance improvement over existing Arm-based chips. The drive for cost efficiency in cloud spending, especially in the current economic climate, could boost the adoption of these new processors.
Transitioning to specialized AI chips like Trainium or Maia 100 involves complexities due to the unique characteristics of each AI model. While there has been significant work to optimize various tools for Arm due to its prevalence in mobile devices, similar efforts in AI silicon are still evolving. Over time, organizations are expected to realize price-performance gains with these AI chips compared to traditional GPUs.
Impact on Azure Customers
Microsoft's collaboration with ecosystem partners in developing these chips is poised to benefit all Azure customers, enhancing cloud computing and AI processing capabilities. This strategic move positions Microsoft as a more formidable player in the competitive cloud computing market.