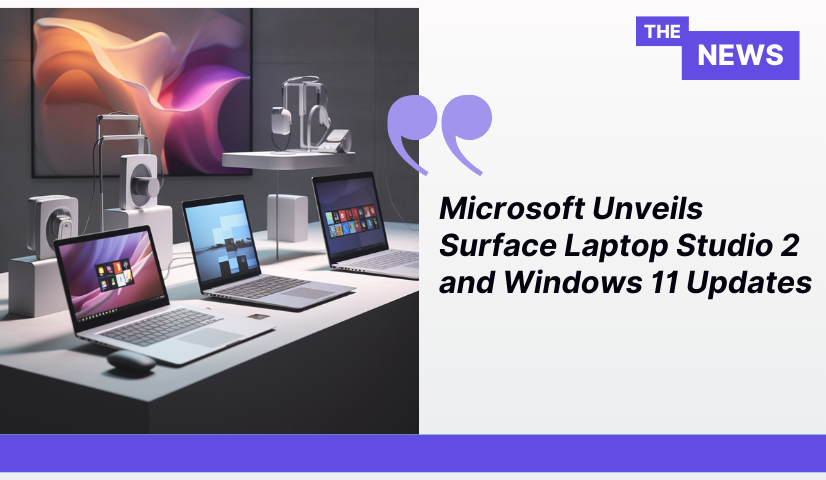 Key Takeaways

Microsoft introduces the Surface Laptop Studio 2 and Surface Laptop Go 3, along with Windows 11 updates, during a New York event.
The Copilot AI assistant is integrated into Windows 11, making AI more accessible to users.
Microsoft also announces the Surface Go 4, updates to Surface Hub devices, and the release of Microsoft 365 Copilot for large businesses.
Microsoft has unveiled its latest lineup of Surface devices and provided insights into the upcoming Windows 11 updates, including the integration of the Copilot AI assistant. The event, held in New York, showcased the company's commitment to innovation in both hardware and software, catering to the needs of consumers and enterprises alike.
Microsoft's Commitment to AI
Microsoft CEO Satya Nadella emphasized the significant impact of the Copilot AI tools across Microsoft's user base, benefiting consumers and enterprises. This commitment to AI reflects the company's dedication to staying at the forefront of technological advancements.
Microsoft introduced the Surface Laptop Studio 2 and the Surface Laptop Go 3 during the event. The Surface Laptop Studio 2, starting at $1,999, offers versatility by functioning as both a traditional laptop and a tablet. It features powerful components, including 13th-generation Intel Core processors and Nvidia graphics options. Notably, it boasts up to 64GB of RAM and improved battery life, making it the "most powerful Surface ever built."
On the other hand, the Surface Laptop Go 3, starting at $799, provides an affordable yet capable option. With a 12.4-inch touchscreen display and 12th-generation Intel processors, it offers improved performance and 15 hours of battery life.
Both devices are set to ship with Microsoft's enhanced Windows 11 operating system, featuring the Copilot software. Preorders for these Surface models are available, with availability scheduled for October 3.
Microsoft announced that the next major update to Windows 11 will roll out on September 26. This update brings significant enhancements, including the integration of Copilot into the Bing search engine and the Edge web browser. Users can summon Copilot by holding down the Windows key and pressing the C key, making AI more accessible to a broader audience.
Key features of the new Windows 11 version include the ability to boot to the cloud, simplified text extraction from screenshots, improved backup options, AI-powered image generation in the Paint app, taskbar customization, and automatic Notepad saving. These updates aim to enhance user productivity and overall experience.
Microsoft Advertising Platform and Surface Hub
Microsoft is also incorporating generative AI into its advertising tool, allowing marketers to create content more efficiently and effectively. Additionally, Microsoft introduced the Surface Go 4, catering exclusively to organizations, and updates to Surface Hub devices. These enhancements offer more flexibility and better performance, making them valuable tools for businesses and remote work scenarios.
Microsoft 365 Copilot for Large Businesses
Large organizations can start using Microsoft 365 Copilot from November 1, further enhancing their productivity and collaboration capabilities. This tool, priced at $30 per person per month on top of Microsoft 365's existing costs, offers features like AI-generated meeting summaries, making it a valuable asset for businesses looking to streamline their operations and leverage AI-driven insights.
Microsoft's commitment to AI, coupled with advancements in Surface devices and Windows 11 updates, demonstrates the company's dedication to providing innovative solutions for its users, spanning both personal and professional use cases.