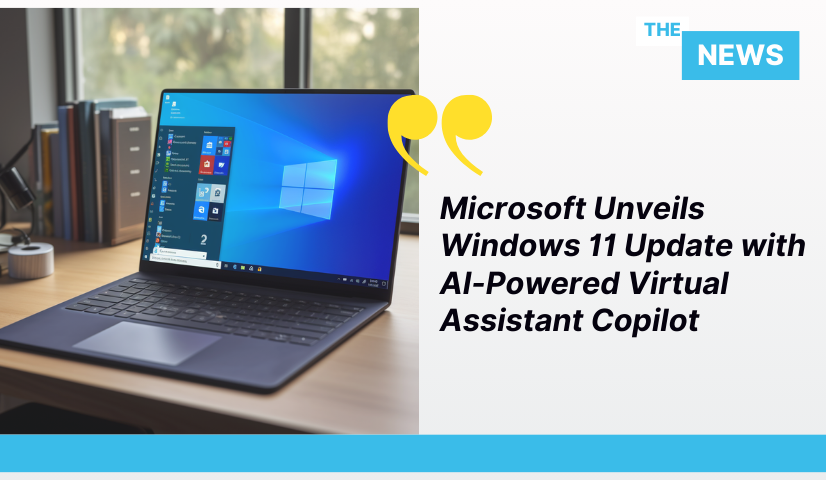 Key Takeaways

Microsoft rolls out a significant Windows 11 update, highlighting Copilot, an AI-driven virtual assistant for enhanced user interactions.
The update brings multiple AI features, including a virtual video editor, screen reading in various languages, energy-saving capabilities, and more. applications securely.
Microsoft Unveils Windows 11 Update with AI-Powered Copilot
Microsoft is releasing the latest major update to its Windows 11 operating system, introducing various AI-driven features and enhancements. Among the notable additions is Copilot, a generative artificial intelligence virtual assistant reminiscent of OpenAI's ChatGPT. Copilot aims to streamline user interactions with Windows 11 through its natural language processing capabilities.
Copilot leverages advanced language models developed by Microsoft-backed OpenAI to compose emails, answer user queries, and execute actions within the Windows environment. This AI innovation represents a significant step in Microsoft's journey to integrate AI into its operating systems and enhance user productivity.
AI Features Enhancing User Experiences
The Windows 11 update includes various AI-powered improvements designed to make users' experiences more efficient and enjoyable. Some of the key AI features introduced in this update are:
Users can use AI-driven auto-composition features in the built-in Clipchamp video editing app. This makes video creation simpler by generating scene compilations based on user input.
Building on the AI-driven natural-sounding voices introduced last year in Windows' Narrator accessibility feature, this update adds support for additional languages, catering to a broader user base.
Energy-Efficient Display:
A new energy-saving feature, "adaptive dimming," uses built-in presence sensors to adjust screen brightness based on user presence, reducing power consumption.
Users with cloud-based Windows versions can now log directly into their cloud instances, offering seamless access to their primary computing environment.
The updated Snipping Tool app allows users to extract text directly from screenshots, simplifying the process of copying and redacting information.
Users can back up previously installed apps and pinned app preferences for future restoration.
Microsoft's Paint app gains AI capabilities that enable users to generate images based on text descriptions and preferred styles, streamlining image creation.
The update allows users to choose between viewing app icons with or without labels, giving more flexibility and control over their taskbar.
Notepad now automatically saves the user's progress, enabling users to pick up where they left off seamlessly.
Efficient Image Searching:
The Photos app is enhanced to support keyword and object-based image searches, simplifying image retrieval.
Work-Specific File Recommendations:
Windows 11 now provides file suggestions in File Explorer and the Start menu, catering to users' work-related needs.
Microsoft is testing "instant games," allowing users to try casual games from the Microsoft Store app without downloading and installing them beforehand.
System Component Management:
System components, such as File Explorer, are now categorized with a "system" label in the Start menu. A dedicated page for system components within the Settings app simplifies their management.
The Dev Home app serves as a hub for software developers, offering features for activity tracking on Microsoft-owned GitHub, PC monitoring, and configuring a new type of PC storage volume known as a Dev Drive.
These AI-driven enhancements aim to improve user experiences, offering productivity gains and ease of use for Windows 11 users.
Availability and Future Expansion
The Windows 11 update will be rolled out gradually to users, ensuring a smooth transition and addressing any potential issues before widespread deployment. Copilot, which is still in preview, is currently accessible in North America and parts of Asia and South America, with Microsoft planning to expand its availability to additional regions in the future.
Users interested in the latest features can manually check for updates in the Settings app's Windows Update section. Additionally, education and commercial customers can find detailed information about the update in a dedicated blog post. Microsoft remains committed to delivering innovative solutions to users and enhancing the Windows ecosystem with AI-driven capabilities.