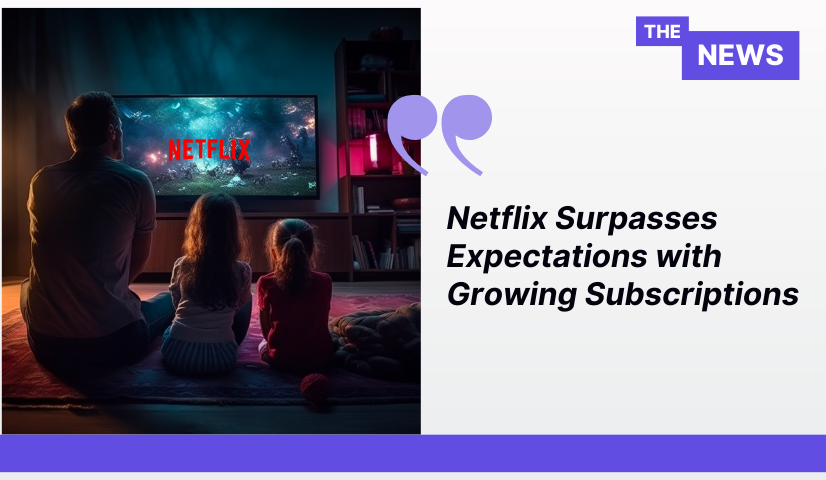 Key Takeaways

Netflix revealed its Q2 financial results, showcasing growth in both revenue and subscription numbers. However, despite the positive performance in subscriptions and earnings per share (EPS), the market's expectations were not met, resulting in an over 8% post-market dip. This article delves into Netflix's financial data, its initiatives to combat account sharing, and the potential impact of Hollywood writers and actors' strike on the company's performance.
Q2 Financial Highlights and Expectations
In Q2 (ending on June 30), Netflix surpassed analyst expectations in several key areas:
EPS: $3.29 vs. $2.86 (Refinitiv consensus)

Net income: $1.49 billion

Revenue: 3% YoY growth to $8.19 billion vs. $8.3 billion expected

New subscriber additions: 8% YoY growth to 5.9 million

Compared to the same period last year (Q2 2022), Netflix's revenue was $7.97 billion, and net income stood at $1.44 billion.
Addressing Expectations on Ad-Supported Subscriptions
Investors were keen to learn more about Netflix's ad-supported subscription plans and their potential impact on boosting subscriptions and combating account sharing. However, Netflix clarified that the ad-supported version of the subscription plan was introduced only at the end of the previous year. Consequently, analyzing the detailed revenue figures for this plan is premature, and the same applies to the paid account-sharing plan. Nevertheless, Netflix reassures investors that revenue will grow in the second half of the year as the full benefits of paid account sharing and stable growth of the ad-supported version will be apparent.
Q3 Forecast and Subscription Projections
EPS: $3.52 vs. $3.23

Revenue: $8.52 billion vs. $8.66 billion

New paid subscriber additions: Similar to Q2
Netflix estimates that Q3 revenue will increase by 7% to $8.5 billion, mainly due to a rise in average paying memberships. The company also expects new paid subscriber additions in Q3 to be in line with Q2. However, in Q4, revenue growth is anticipated to "significantly accelerate" as the efforts to combat account sharing and the growth of ad revenue yield more fruitful results.
Impact of Account Sharing Policy and Ad-Supported Plans
Netflix introduced a policy in May, reminding members that sharing accounts with non-household members is not permitted. Non-household members can either transfer their data to their own paid accounts or have the account holder pay an additional $7.99 per month for additional members. According to Antenna's report, there was an increase in Netflix user numbers shortly after the implementation of this paid account-sharing policy.
In response to a decline in subscription numbers in 2022, Netflix implemented paid account sharing and ad-supported subscription plans. These initiatives have resulted in a surge in Netflix's stock price by almost 62% this year, reaching a new 52-week high on Wednesday, as the market expects growth in this quarter.
Hollywood Writers and Actors' Strike – Potential Impact
Analysts predict that Netflix will outperform other media companies during the Hollywood writers and actors' strike, owing to its extensive content library, particularly international content. Due to the strike, Netflix has raised its 2023 free cash flow forecast to $5 billion, up from the previous estimate of at least $3.5 billion, thanks to reduced content expenses this year.
Despite facing some market disappointment after its Q2 results, Netflix remains resilient, thanks to its innovative initiatives like paid account sharing and ad-supported subscriptions. As the company continues to focus on enhancing user experience and addressing issues like account sharing, it aims to generate more revenue and reinvest it in further platform improvements. The potential impact of the Hollywood strike is expected to be favorable for Netflix, given its diverse content offerings from various regions worldwide.