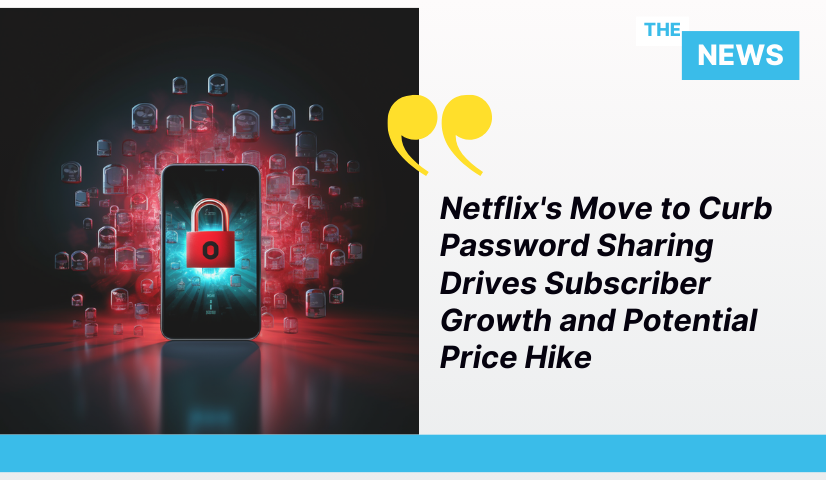 Key Takeaways
Netflix's efforts to restrict password sharing outside households have led to approximately 6 million new subscribers in the third quarter.
The streaming platform is expected to consider raising prices, especially for its ad-free options, to drive more users toward higher revenue tiers.
Netflix's Subscriber Boost Through Password Crackdown
Netflix's decision to clamp down on password-sharing has yielded results, with approximately 6 million new subscribers joining the platform in the third quarter. The move aimed to tap into the vast user base of over 100 million viewers who accessed the service without subscribing.
While Netflix has maintained its position as the only profitable major streaming service, it has refrained from raising ad-free prices like its competitors, such as Walt Disney. Instead, it chose to limit password-sharing outside of households, marking itself as a utility in many markets. However, the challenge now is how Netflix continues to find growth in its maturing phase.
Potential Price Hike on the Horizon
With the Hollywood actors' strike ending and Netflix's resilience through this period, the platform could be gearing up for a price increase. This decision might be motivated by the desire to capitalize on the success of its ad-free plans. Analysts predict that Netflix is likely to raise prices for its ad-free options in the coming months, enticing more subscribers to opt for the higher-revenue tiers.
After the password crackdown, most new Netflix subscribers have chosen ad-free plans. The standard plan with ads is priced at $6.99 per month, while the ad-free options start at $15.49.
Insider Intelligence analyst Ross Benes suggests that Netflix could significantly increase its ad-supported viewership next year by utilizing these strategies, potentially catching up with its competitors.
Anticipated Revenue and Strong Subscriber Growth
The ad-supported tier is projected to generate approximately $188.1 million in revenue in the third quarter ending in September, with an estimated addition of 2.8 million subscribers, according to Visible Alpha estimates.
Overall, Wall Street expects Netflix to report its most robust quarterly subscriber additions this year, which is in line with LSEG data. In addition, revenue in the third quarter is predicted to have grown by 7.7% to $8.54 billion, marking the platform's fastest growth in five quarters. This growth can be attributed to its compelling programming, including the latest seasons of "Sex Education" and "Virgin River."
As Netflix continues to navigate the streaming landscape, its success in controlling password-sharing and potentially raising prices demonstrates its commitment to delivering quality content and maintaining a competitive edge in the market.