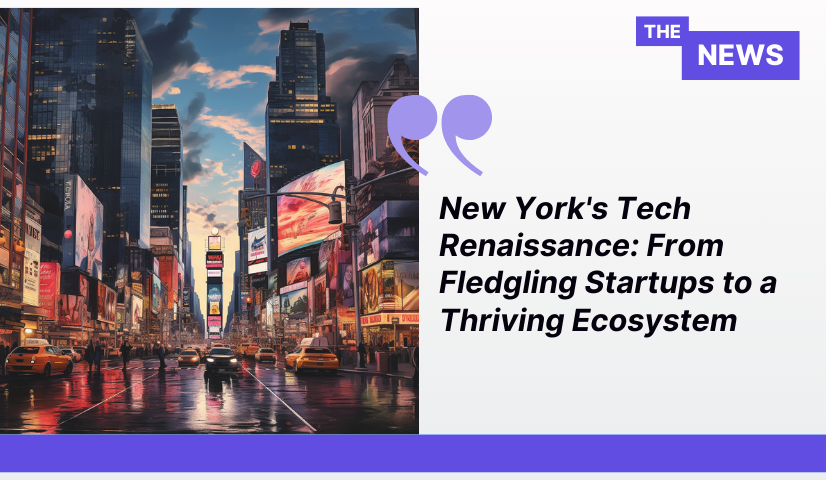 Key Takeaways

New York's tech scene has undergone significant growth, fueled by successful startups like Datadog, UiPath, and MongoDB.
The city has seen increased investment, a surge in startup activity, and a diverse talent pool, reshaping it as a tech hub.
New York, once considered a secondary tech hub compared to Silicon Valley, is now emerging as a prominent player in the tech industry. The city's transformation is fueled by successful startups, growing investor interest, and an expanding pool of tech talent. In this article, we delve into the factors driving New York's tech renaissance.
A decade ago, Albert Wang moved from California to New York, landing a job as a product manager at Datadog. At the time, Datadog was a fledgling startup focused on helping companies monitor their cloud servers and databases. New York's tech scene was still in its infancy, with the San Francisco Bay Area dominating the industry, and Boston known as the hub of enterprise technology.
However, Datadog's rapid growth, culminating in its 2019 IPO and a market cap of over $28 billion, marked a turning point. Wang, inspired by the changing landscape, decided to stay in New York and launch Bearworks, a software provider for sales reps. The city had transformed, with a noticeable increase in tech activity and a diverse startup ecosystem.
Datadog's success was followed by UiPath, MongoDB, and Etsy, among others, all contributing to New York's evolving tech landscape. While these companies may not reach the size of tech giants, they've fostered an environment that births new startups and empowers early employees to become angel investors for the next generation.
Despite a challenging year for the tech industry in 2022, New York's optimism remains high. The city ranked second to California in 2022, with $29.2 billion invested in 2,048 startups, according to the National Venture Capital Association. This marked a significant shift from 2014 when New York lagged behind California and Massachusetts.
Rapid Growth in Investment and A Hub for Tech Talent
Annual capital deployed in New York has increased sevenfold over the past nine years, even after a challenging 2022. In 2021, New York startups secured nearly $50 billion across 1,935 companies, showcasing the city's growing appeal to investors. This momentum is further exemplified by the recent influx of venture capital into the city.
New York's tech renaissance has also been supported by an expanding pool of tech talent. Big Tech companies like Google and Salesforce have bolstered their presence in the city, making it easier for startups to find individuals with the right skills. Additionally, investors who traditionally favored the Bay Area have set up shop in New York, further boosting the city's startup ecosystem.
For New York's tech scene to maintain its momentum, it needs a continuous stream of successful startups. While the IPO market has shown signs of revival, there's a need for more New York-based tech IPO candidates. Startups that emerged during the dot-com boom vanished in the 2000s, but Datadog, MongoDB, and DigitalOcean surfaced after the Great Recession, signaling hope for future growth.
Successful founders from these companies are reinvesting their wealth in New York, supporting new startups and innovation. The city's ecosystem is rapidly maturing, making it easier to find talent and secure investments.