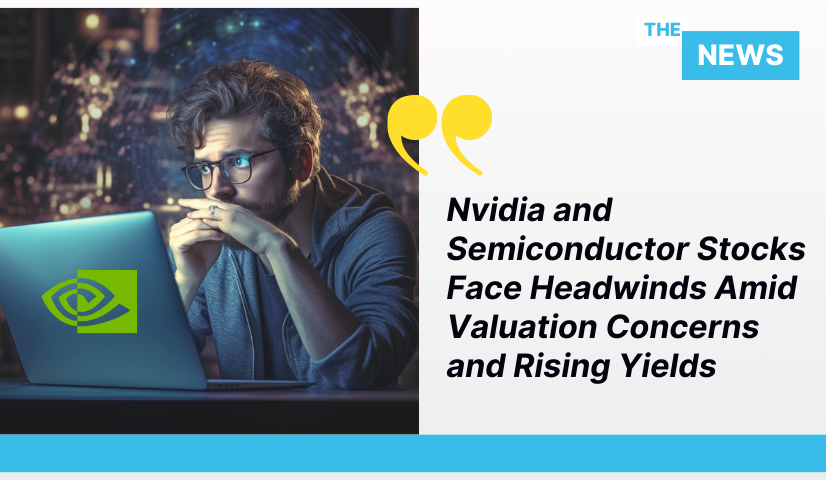 Key Takeaways

Semiconductor stocks, including Nvidia, saw impressive gains in 2023 but have recently faced challenges, with concerns over valuations and the impact of rising Treasury yields.
Valuations for semiconductor companies remain relatively high compared to historical averages, and increasing Treasury yields provide alternative investment options, affecting stock prices.
Industry-specific issues, such as U.S.-China tensions in the semiconductor sector, have also contributed to the recent slowdown.
The stellar performance of semiconductor stocks, including Nvidia, in 2023 has hit a speed bump as investors assess steep valuations and the impact of rising Treasury yields. The remarkable rally earlier this year, fueled by excitement surrounding the role of semiconductor products in artificial intelligence (AI) applications, has given way to a period of consolidation and scrutiny.
Semiconductor stocks, exemplified by the Philadelphia SE Semiconductor index, soared with a more than 50% surge through July. Nvidia, in particular, stood out with its shares tripling in value in 2023, propelling the company's market capitalization to over $1 trillion. However, the performance of these stocks has recently stalled, with the semiconductor index declining by over 7% this month, compared to a 2.3% drop in the broader S&P 500. Nvidia, which played a pivotal role in driving the market's rally, experienced a decline of more than 14% in September.
According to King Lip, chief investment strategist at Baker Avenue Wealth Management, "They have definitely lost some momentum." He noted that many semiconductor stocks benefited from the AI boom, but the fervor around this trend has subsided.
Despite the recent declines, valuations for semiconductor companies remain relatively high. In July, the S&P 500's semiconductors and semiconductors equipment industry group were trading at 28.5 times forward 12-month earnings estimates, well above its 10-year average of 16.5 times. Even after the pullback, the group's forward price-to-earnings (P/E) ratio remains at 23.5 times.
Impact of Rising Treasury Yields
The rise in Treasury yields has further exacerbated concerns. Higher yields on Treasuries provide investors with an alternative to equities, which are considered riskier assets. Yields increased significantly after the Federal Reserve indicated a commitment to higher interest rates.
Nvidia, despite exceeding revenue forecasts in late August, has faced weakness in its stock price. Other major semiconductor companies, including Lam Research, Applied Materials, and KLA Corp, also experienced declines in September.
Beyond valuation and rising yields, industry-specific issues are weighing on semiconductor stocks. Ongoing tensions between the United States and China regarding semiconductors have introduced uncertainty. Washington is considering imposing restrictions on AI microchip sales, following export controls in the previous year.
A recent report revealing Taiwan's TSMC's decision to delay chipmaking equipment deliveries due to concerns about customer demand added to the sector's challenges.
While semiconductor stocks face headwinds in the short term, many companies have still posted substantial gains in 2023. Analysts suggest that investors should consider dividend-paying semiconductor firms with strong balance sheets and reasonable valuations, emphasizing that opportunities in the sector may continue to emerge despite the current setbacks.