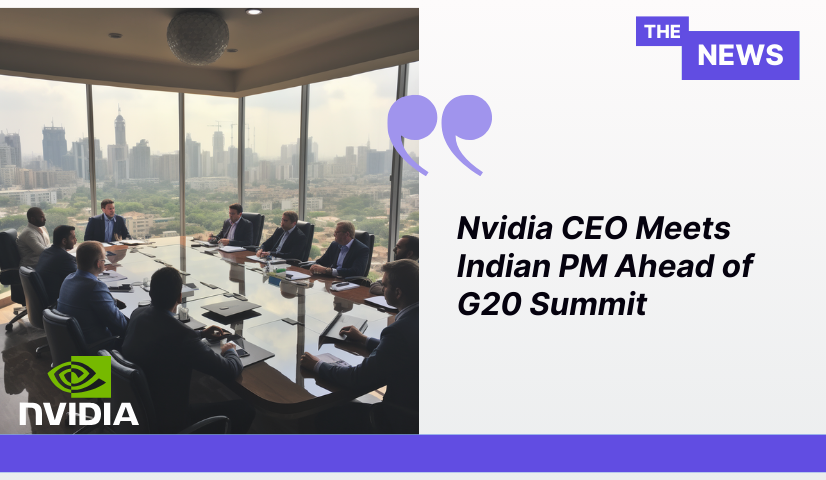 Key Takeaways

Nvidia's CEO, Jensen Huang, met with Indian Prime Minister Narendra Modi to explore India's AI potential.
India's growing presence in AI is highlighted, with Nvidia actively involved in the country's tech landscape.
As India prepares to host the upcoming G20 summit, Jensen Huang, the CEO of Nvidia, embarked on a significant visit to the country. During his stay, he had an engaging meeting with Indian Prime Minister Narendra Modi.
Prime Minister Modi took to Twitter to express his satisfaction with the meeting, claiming it was excellent. He revealed that their discussions delved deeply into India's potential in the realm of artificial intelligence (AI). Modi also noted Nvidia's appreciation for India's advancements in this sector and his optimism regarding the nation's talented youth.
Nvidia's Commitment to India
Following his meeting with Prime Minister Modi, Jensen Huang organized an informal dinner gathering. This event brought together a multitude of researchers hailing from esteemed institutions in the fields of science and technology. Among these were luminaries from the Indian Institute of Science and various Indian Institute of Technology campuses.
Nvidia's statement also underscored the remarkable diversity of expertise among the attendees, spanning disciplines such as large language models, astrophysics, medicine, quantum computing, and natural language processing.
Nvidia plans to initiate the operation India in 2024, beginning its actions in Bangalore. Today, India is home to four engineering development centers operated by Nvidia, strategically located in Gurugram, Hyderabad, Pune, and Bengaluru, employing over 3,800 professionals.
Moreover, Nvidia's developer program boasts an impressive membership of more than 320,000 developers based in India. The company's CUDA parallel programming platform enjoys approximately 40,000 monthly downloads in India, with an estimated 60,000 skilled CUDA developers in the country.
A research report by The Brookings Institution has positioned India among the top 10 countries globally in terms of technological progress and investment in artificial intelligence. According to Statista, India's AI market is anticipated to reach a substantial US$4.2 billion by 2030, reaffirming the nation's burgeoning presence in the AI landscape.
As India continues to make strides in the field of AI, Nvidia's engagement and collaboration with the country underscore its commitment to fostering innovation and technological advancement on the global stage.