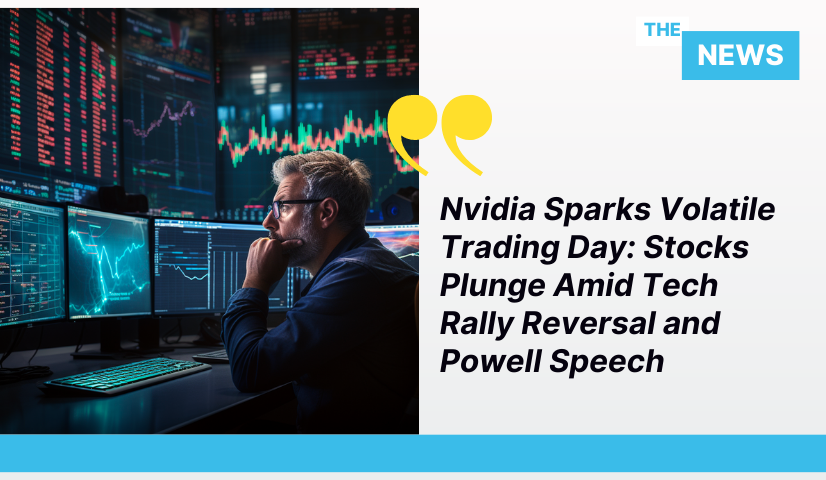 Key Takeaways

Stocks experience sharp decline following a short-lived tech rally sparked by Nvidia's strong results.

Federal Reserve Chairman Jerome Powell's key speech adds to market uncertainty.
Market Volatility Amidst Tech Rally and Fed Chairman's Speech
In a tumultuous trading session on Thursday, the stock market experienced a significant downturn as an initially promising tech rally lost steam, triggered by Nvidia's robust quarterly results. Investors also closely monitored a pivotal speech from Federal Reserve Chairman Jerome Powell, contributing to the overall market volatility.
Dow, S&P 500, and Nasdaq Experience Substantial Losses
The Dow Jones Industrial Average concluded the trading day with a substantial loss of 373.56 points, representing a decline of 1.08%, settling at 34,099.42. The S&P 500 followed suit, experiencing a 1.35% drop and closing at 4,376.31. The tech-centric Nasdaq Composite faced the most substantial setback, falling by 1.87% to settle at 13,463.97.
Remarkably, this marked the Dow's most challenging day since March, while both the S&P 500 and Nasdaq reported their most substantial one-day losses since August 2nd.
Nvidia's Quarterly Earnings Influence Market Sentiment
Although Nvidia's stock soared to an all-time high on the back of quarterly earnings that outstripped ambitious analyst projections, the company's performance failed to maintain the initial momentum. Despite reporting impressive figures and a raised guidance, Nvidia's stock only managed a modest 0.1% increase.
Tech Sector Decline and Impact on Other Stocks
The information technology sector, a prominent component of the S&P 500, experienced the most pronounced decline, ending the day down 2.15%. This decline was largely attributed to weaker performances in other semiconductor stocks, including industry players like Advanced Micro Devices and Intel. Several prominent tech giants also witnessed significant drops, as Amazon declined by 2.7%, Apple by 2.6%, and Netflix by 4.8%.
Notable Losers and Broader Market Trends
Among the notable losers in the market, Dollar Tree suffered the most considerable setback, with its stock plunging by 12.9% due to underwhelming third-quarter guidance. Athletic apparel giant Nike also faced a 1.1% drop, extending its record of consecutive losses. Aerospace behemoth Boeing played a role in dragging down the Dow, recording a nearly 5% decrease.
Phillip Colmar, a global strategist at MRB Partners, pointed out that the market was heavily influenced by a select few companies, indicating a narrow focus. He stressed the potential for broader market trends with a more robust growth backdrop and higher bond yields. While Colmar suggested caution regarding the tech sector after its substantial gains, he acknowledged that certain themes might take time to fully reflect in stock prices.
Tech Sector Resilience Amidst Rising Yields
Despite the market's recent turbulence, some investors remained optimistic about the tech sector's resilience amid a challenging economic environment. Sonu Varghese, director and macro strategist at Carson Group, highlighted the resurgence of the tech narrative, noting its surprising strength even as real yields increased, a scenario that traditionally affects valuation.
U.S. Treasury Yields React to Jackson Hole Meeting
As the trading day unfolded, U.S. Treasury yields rose in anticipation of insights on monetary policy from central bankers attending the Jackson Hole meeting in Wyoming. The yield on the 10-year Treasury note reached 4.241%, following an earlier surge to a 16-year high earlier in the week.