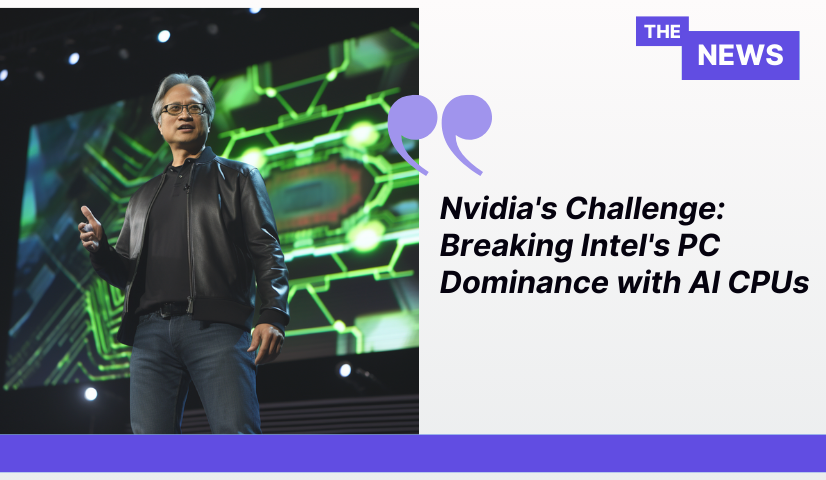 Key Takeaways
Nvidia, a leader in AI computing chips, is venturing into CPU design for Microsoft Windows systems, aiming to challenge Intel's PC dominance.
The move follows Apple's success with Arm-based chips in Macs, with Nvidia, AMD, and Qualcomm planning to offer Arm-based PC chips as early as 2025.
Nvidia Takes Aim at Intel's PC Dominance
Nvidia, renowned for its dominance in artificial intelligence (AI) computing chips, is now setting its sights on challenging Intel's long-standing stronghold in the personal computer (PC) market. The company has undertaken a relatively low-profile initiative, designing central processing units (CPUs) capable of running Microsoft's Windows operating system, incorporating technology from Arm Holdings, as reported by two insider sources to Reuters.
This strategic shift from the AI chip giant aligns with Microsoft's broader effort to assist chip manufacturers in developing Arm-based processors tailored for Windows-based PCs. The primary aim is to respond to the growing market influence of Apple, which has witnessed nearly a doubling of its market share over the last three years by leveraging in-house Arm-based chips for its Mac computers, according to preliminary third-quarter data from IDC, a renowned research firm.
The Growing Shift Towards Arm-Based Chips
The transition towards Arm-based chips appears to be gaining momentum, with Advanced Micro Devices (AMD) also plotting a strategic move to develop PC chips employing Arm technology, according to informed sources.
Industry insiders suggest that Nvidia and AMD may introduce Arm-based PC chips as early as 2025. This shift would place them in the company of Qualcomm, which has been producing Arm-based chips for laptops since 2016. In an upcoming event, attended by Microsoft executives, Qualcomm plans to unveil more details regarding a flagship chip, designed by a team of former Apple engineers, further intensifying competition in this rapidly evolving landscape.
Market Reaction and Industry Speculation
The news of Nvidia's venture into CPU design had significant market implications. Following the Reuters report, Nvidia's shares experienced a notable 3.84% uptick, while Intel's shares faced a corresponding downturn, dropping by 3.06%. Arm Holdings' shares saw a boost of 4.89% by the close of the trading day.
Although Nvidia, AMD, and Qualcomm's collective efforts are poised to disrupt the PC industry, Intel, a long-standing industry leader, now faces increased competition from Apple. Apple's innovative custom chips have enhanced Mac computers with better battery life and impressive performance, rivalling traditional chips that consume more power. Observing Apple's successful integration of Arm-based chips, Microsoft executives aspire to replicate that performance, especially in the realm of AI processing.
Microsoft's strategy aligns with its initiative in 2016, wherein it selected Qualcomm to lead the effort in transitioning the Windows operating system to Arm's underlying processor architecture, which traditionally powered smartphones with limited power resources. Under this arrangement, Microsoft granted Qualcomm exclusive rights to develop Windows-compatible chips until 2024, a decision known to a few insiders.
Future Prospects and AI Integration
Microsoft has not only encouraged multiple chipmakers to enter the Arm-based chip market but also advised them to incorporate advanced AI features into the CPUs they design. The company envisions the seamless integration of AI-enhanced software, such as its Copilot, as an increasingly vital component of the Windows experience. Consequently, forthcoming chips from Nvidia, AMD, and other manufacturers are expected to allocate on-chip resources to facilitate these AI-driven enhancements.
However, transitioning from the traditional x86 computing architecture, commonly used by both Intel and AMD, to Arm-based designs may present software development challenges. Software developers have invested decades and considerable resources in coding for x86 chips, creating a potential barrier to a smooth transition.
Intel has not been idle in this evolving landscape, incorporating AI features into its chips and showcasing laptops capable of running features similar to ChatGPT directly on the device. While Intel has been pursuing its AI path, it remains to be seen how Nvidia, AMD, and Qualcomm's plans to introduce Arm-based PC chips will influence the tech industry's future trajectory.
Intel spokesperson Will Moss did not provide an immediate response to requests for comments, while AMD's entry into the Arm-based PC chip market was previously reported by the chip-focused publication, SemiAccurate.