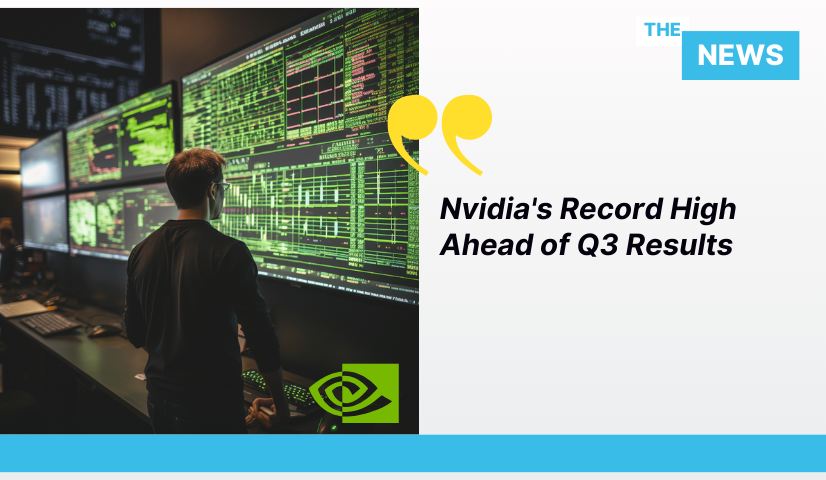 Key Takeaways

Nvidia's shares reach an all-time high before Q3 earnings release.
Market anticipates robust growth in Nvidia's AI-focused GPU sector.
Nvidia's Stock Surge Pre-Earnings
Shares of Nvidia closed up 2.3%, reaching an all-time high of over $504 ahead of the company's fiscal third-quarter results. The market is bracing for revenue growth of over 170%, with expectations of an even more significant growth rate, almost 200%, in the fiscal fourth quarter.
Heading into the Thanksgiving holiday, Wall Street is keenly observing Nvidia, a central player in this year's artificial intelligence boom. The company's stock price has soared by 245% in 2023, marking it as the fastest-growing member of the S&P 500.
Risks and Challenges for Nvidia
Despite the impressive growth, there are potential risks. Any signs of declining AI enthusiasm, customer shift towards AMD's processors, or negative impacts from China restrictions could impact Nvidia's soaring stock. The company's market cap now exceeds those of Meta and Tesla.
Nvidia faces new dynamics in the generative AI market with the emergence of AMD. AMD's CEO, Lisa Su, recently announced significant revenue expectations from their GPU segment, positioning them as a potential competitor to Nvidia's dominance in AI GPUs.
Nvidia's Response to Market Needs
In response to market needs, Nvidia recently unveiled the H200 GPU, an upgrade from the H100 used by OpenAI for training AI models. This new GPU is designed to support the development of advanced AI applications but faces scrutiny over its pricing.
Nvidia's data center group, a significant revenue contributor, is expected to grow substantially in the fiscal third quarter. Analysts predict a near quadruple increase in data center growth and a total revenue rise of 172%.
OpenAI's Impact on Nvidia's Growth
Executives will likely address questions regarding the recent upheaval at OpenAI, a significant catalyst for Nvidia's growth this year. The firing of OpenAI CEO Sam Altman and the subsequent developments could influence Nvidia's business, given OpenAI's status as a significant buyer of Nvidia's GPUs.
Investor Focus on Nvidia's Future
Nvidia has managed to navigate U.S. restrictions on AI chip sales to China, a critical market for the company. Reports suggest Nvidia has adapted its offerings to comply with U.S. rules while maintaining its presence in the Chinese market.
Investors and market watchers will closely listen to CEO Jensen Huang's tone during the earnings call for indications of Nvidia's future, especially concerning the generative AI sector's momentum.