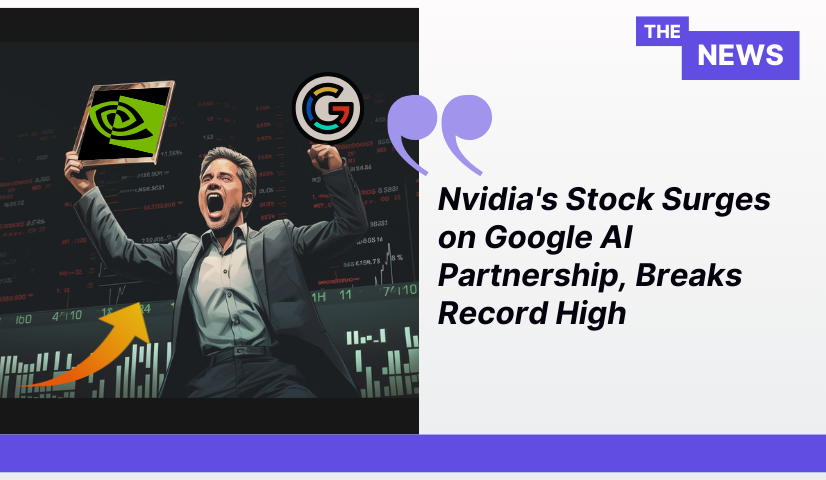 Key Takeaways

Nvidia's stock gains 4.2% to a record high after announcing a partnership with Google for AI technology.

Nvidia's rapid 2023 growth, up 234%, cements its position as the S&P 500's best performer.

Google Cloud and Nvidia expand collaboration for enhanced AI capabilities and efficiency.
Nvidia's Stock Soars on Google AI Collaboration
Nvidia's shares surged by 4.2% on Tuesday, achieving a record-high closing price, following the chipmaker's announcement of a strategic collaboration with Google. The partnership holds the potential to significantly broaden the distribution of Nvidia's advanced artificial intelligence technology.
The remarkable performance of Nvidia's stock continues its upward trajectory, boasting a staggering 234% increase in 2023. This growth solidifies Nvidia's position as the top performer in the S&P 500. Following Nvidia, Meta, the parent company of Facebook, secures the second spot on the index with a growth of 148%.
This record-breaking closing comes less than a week after Nvidia reported a twofold increase in quarterly revenue compared to the previous year. Furthermore, the company's forward-looking forecast suggests a potential 170% rise in sales for the upcoming period. Shortly after the impressive earnings report, the stock reached an all-time intraday high of $502.66 before experiencing a minor decline later in the day.
Nvidia and Google: Expanding AI Possibilities
Nvidia's thriving business can be attributed to the soaring demand for its graphics processing units (GPUs) by cloud companies, government agencies, and startups. These GPUs are utilized for training and deploying generative artificial intelligence models, such as those underpinning OpenAI's ChatGPT.
During a Google conference, Nvidia CEO Jensen Huang highlighted a significant AI agreement between the two companies. This partnership aims to provide Google's cloud customers with enhanced access to Nvidia's powerful H100 GPUs, driving technology innovation forward. Huang expressed his optimism, stating, "Our expanded collaboration with Google Cloud will help developers accelerate their work with infrastructure, software, and services that supercharge energy efficiency and reduce costs."
Enhanced Partnership and AI Progress
In a collaborative effort, Nvidia and Alphabet's Google Cloud Platform are expanding their partnership to bolster the advancement of AI and large language models. The companies unveiled this development during a fireside chat at Google Cloud Next event, featuring GCP Chief Executive Thomas Kurian and Nvidia's founder and CEO, Jensen Huang.
Drawing from Nvidia's technological advancements over the past two years, Google's PaxML large language model framework now harnesses the power of Nvidia's H100 and A100 graphics processing units. This integration offers immediate availability for users. Additionally, Google Cloud will be among the first to gain access to Nvidia's next-generation DGX GH200 AI supercomputer, propelled by the Grace Hopper superchip introduced earlier this month.
Market Reaction and Future Momentum
Nvidia's unexpected surge in data-center sales, driven by high AI demand, recently surprised Wall Street with over $2 billion more than anticipated. In response to the news of Nvidia and Google's extended collaboration, Nvidia shares saw a 4% increase, while Alphabet shares experienced a 2.5% rise. This contrasts with the broader market's 1.2% increase in the S&P 500 index.
As Nvidia and Google intensify their alliance, the tech industry witnesses the convergence of AI prowess and cloud infrastructure, fostering innovation and efficiency on a grand scale.