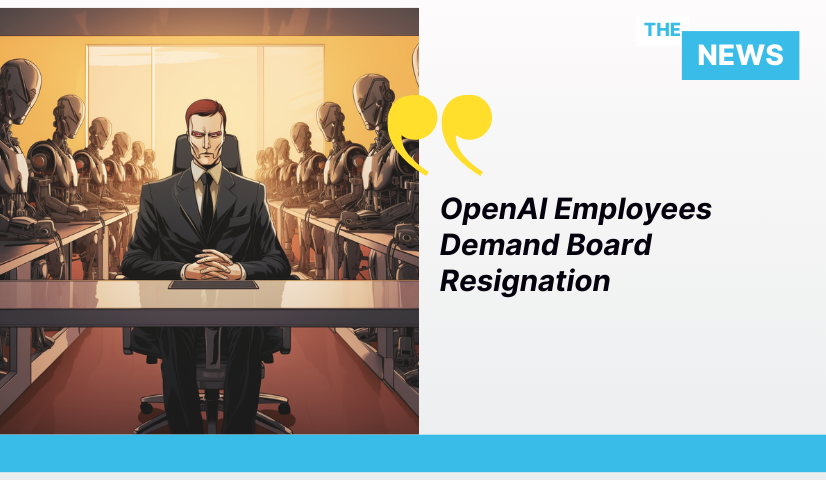 Key Takeaways

OpenAI employees demand board resignation, threatening to join Microsoft's new venture.
The controversy follows the board's removal of Sam Altman as CEO.
OpenAI Employees' Ultimatum to Board
A significant number of OpenAI employees, including prominent co-founder and board member Ilya Sutskever, have signed a letter demanding the resignation of the company's remaining board members. This move comes in response to the board's decision to oust Sam Altman, with employees threatening to join Altman's new venture at Microsoft if their demands are unmet.
The letter, signed by about 667 of OpenAI's 770 employees, criticizes the board for its actions that led to Altman's removal and jeopardized the company's mission and work. Employees expressed their frustration on social media, emphasizing the importance of the team to OpenAI's success.
Context of Altman's Ousting
Sam Altman was forced out of OpenAI by the board, including Sutskever, over unspecified issues with his communications. This decision sparked a backlash among employees and investors, including Microsoft, Thrive Capital, and Sequoia. Subsequent negotiations to reinstate Altman were unsuccessful, leading to his move to Microsoft.
Microsoft CEO Satya Nadella announced the incorporation of Altman and OpenAI co-founder Greg Brockman into a new, largely independent venture at Microsoft. The announcement hinted at the potential inclusion of their colleagues, though the exact number remains unclear. Microsoft has not commented on whether it would hire OpenAI employees leaving the company.
Leadership Changes at OpenAI
The letter from OpenAI employees highlighted the company's achievements in AI and accused the board of lacking competence and judgment. It called for the resignation of all current board members and the appointment of new lead independent directors, including reinstating Altman and Brockman.
Following the board's decision, interim CEO Mira Murati was succeeded by Twitch co-founder Emmett Shear. The letter's signatories include senior executives like Murati and OpenAI COO Brad Lightcap, reflecting significant discontent within the company's leadership.
This upheaval at OpenAI represents a critical juncture in the company's history, with potential implications for its future direction and stability. The employees' collective action underscores the internal dissatisfaction with the board's governance and its impact on OpenAI's mission.