Key Points

OpenAI expands internationally with London office, attracted by talent and pro-innovation regulations. ChatGPT's success fuels global AI regulation discussions. UK AI sector gains confidence through OpenAI's investment.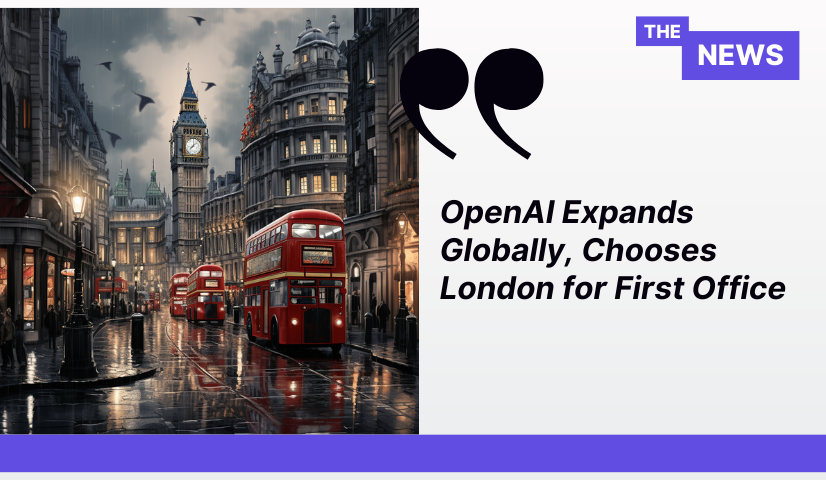 OpenAI's Move to London Attracts World-Class Talent
OpenAI, the renowned US-based company responsible for ChatGPT, has announced its plans to open its first international office in London, UK. This strategic decision is aimed at attracting top-tier talent from around the globe, as stated by OpenAI's CEO, Sam Altman. By establishing a presence in London, OpenAI sees an opportunity to tap into the city's rich culture and exceptional talent pool, reinforcing their research and development efforts in creating and promoting safe AI.
EU Regulation Controversy Sparks UK's Pro-Innovation Stance
Amidst discussions surrounding artificial intelligence (AI) regulation, OpenAI's choice of London as their international base comes after CEO Sam Altman criticized the proposed legislation by the European Union (EU). The EU's legislation would require AI companies to disclose the content used for training their systems. In contrast, the UK government is pursuing a "pro-innovation" approach to regulation, making it an attractive destination for OpenAI. This approach aligns with OpenAI's vision of fostering innovation and creating an environment conducive to the growth of AI technologies.
ChatGPT's Impact Fuels Global Interest in AI
Since its introduction in November, ChatGPT has captivated worldwide attention with its remarkable ability to provide human-like responses to questions. This breakthrough has sparked a global discussion about the potential risks and necessary regulations surrounding AI. OpenAI's expansion into London further solidifies the significance of AI technologies and the need for continued development and regulation in the field.
UK's AI Sector Gains Momentum with OpenAI's Arrival
The UK government has been actively investing in AI, having allocated £2.5 billion to the sector since 2014. OpenAI's decision to establish its international office in London serves as an endorsement of Britain's AI capabilities. Chloe Smith, the Secretary of State for Science, Innovation, and Technology, sees this as a vote of confidence in the UK's vibrant technology ecosystem and exceptional talent. She emphasizes that the UK is already a global destination for AI and highlights the sector's substantial contribution to employment, with over 50,000 individuals currently employed in AI-related roles across the country.
By opening its first foreign office in London, OpenAI aims to tap into the city's talent pool, strengthen its research and development capabilities, and contribute to the vibrant AI ecosystem in the UK. This move highlights the significance of AI technologies and the UK's commitment to fostering innovation in the field.