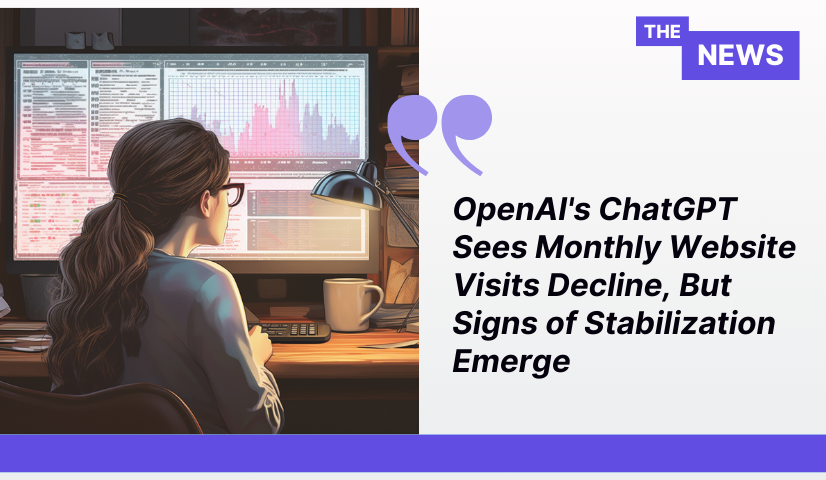 Key Takeaways

ChatGPT, the widely-used AI chatbot developed by OpenAI, witnessed a third consecutive monthly decline in website visits during August.
While global website traffic decreased by 3.2%, there are signs that the decline is moderating, with some positive indicators such as a slight increase in unique visitors.
Challenges in ChatGPT's Web Traffic
OpenAI's ChatGPT, the immensely popular AI chatbot that was launched in November, faced a continuing challenge in August, with monthly website visits registering a decline for the third month in a row. Analytics firm Similarweb reported that worldwide desktop and mobile visits to the ChatGPT website dropped by 3.2% in August, following approximately 10% declines in each of the two preceding months. Additionally, the average time spent by visitors on the website has been progressively decreasing since March, going from an average of 8.7 minutes to 7 minutes in August.
However, amid these challenges, there are glimmers of hope for ChatGPT. In August, the number of worldwide unique visitors showed a slight improvement, rising to 180.5 million users from 180 million.
As September marks the return of students to school, there is potential for a positive impact on ChatGPT's traffic and usage. Some educational institutions have begun to embrace the use of ChatGPT, particularly for tasks such as homework assistance. In the United States, ChatGPT's traffic in August experienced a slight uptick, aligning with the commencement of the new school year.
David F. Carr of Similarweb, who regularly monitors ChatGPT and its competitors, noted, "Students seeking homework help appears to be part of the story: the percentage of younger users of the website dropped over the summer and is now starting to bounce back.
ChatGPT has played a pivotal role in popularizing the use of generative AI in daily tasks, spanning from editing to coding. The chatbot achieved the remarkable milestone of reaching 100 million monthly active users in January, just two months after its launch. Generative AI technology leverages historical data to generate new content, such as essays and poems. Prior to Meta's Threads launch, ChatGPT was recognized as the fastest-growing consumer application ever and currently ranks among the top 30 websites globally.
While ChatGPT faces competition from new entrants like Google's Bard chatbot, it continues to be a prominent player in the AI chatbot landscape. OpenAI introduced the ChatGPT app on the iOS platform in May, offering users an additional way to access its capabilities.
ChatGPT remains freely accessible but also offers a premium subscription option for $20 per month. In addition to its direct usage, OpenAI generates revenue by providing access to its AI models for developers and enterprises, both directly and through its partnership with Microsoft, which made a substantial investment of over $10 billion in the company.
As ChatGPT navigates the evolving landscape of AI-driven applications and services, its ability to adapt to changing user needs and preferences will be instrumental in shaping its future trajectory.